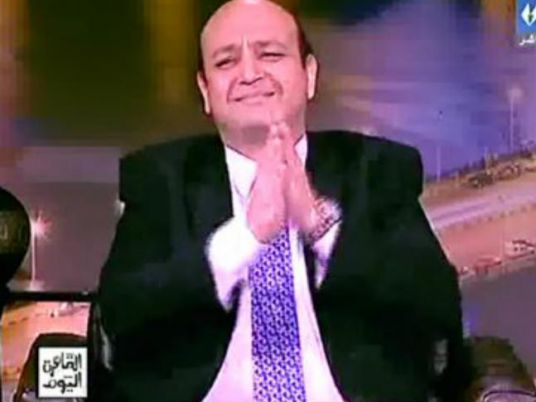 TV host Amr Adib has ended his 20-year association with the Orbit television channel, saying that he will not renew his contract, which ended recently.
Adib, who has been hosting talk shows for the channel for the past two decades, told Al-Masry Al-Youm that he will not sign a new contract and may take a break from media work altogether.
Adib orginally asked to terminate his contract with Orbit in June 2015, but the channel managers convinced him to stay for another year, he said.
"I was the first in the Arab world to present talk shows," said the TV host. "I received my full [financial] entitlements and there is no money due to me from the channel."
He told Al-Masry Al-Youm that, after covering several tense and traumatic years in Egyptian history, he was ready for a break.
"Up to this moment, I am not sure when I am going back to my media work. I need a break… especially since we are going through a calm stage in the media.
"Earlier, we wanted to topple the Muslim Brotherhood, and prior to that was the January 25 revolution. But now its calm," he said.
Adib is a veteran TV presenter and well-known across the region, thanks to the popular TV show "Al-Qahera Al-Youm" (Cairo Today), one of the most durable television talk shows in the Middle East, running for two decades.
Adib started his career as a journalist, becoming editor-in-chief of Al-Alam Al-Youm newspaper, where he worked with his wife and influential TV host Lamis al-Hadidi.
Al-Qahera Al-Youm was a smash hit, largely as a result of its trenchant criticism of the government's performance, especially during the Muslim Brotherhood's reign.
Adib once said during his show that he had received a series of threats calling on him to halt criticism of President Mohamed Morsy and Muslim Brotherhood members.
However, one key draw for his viewers was Adib's sarcastic sense of humor, intertwined with blunt — sometimes even blatant — tone.
Adib is well-known for his supportive stance toward President Abdel Fattah al-Sisi since the ousting of Morsy on June 30, 2013.
On July 3, after Morsy had been removed from office, Adib shouted "God is Great! Long live Egypt!" proudly spreading the Egyptian flag across his shoulders.
Sisi appeared in phone interviews with Adib twice during 2016. During the first interview, Sisi proposed initiating a dialogue with Ahly's hardcore football fans, known as the Ultras, on the fourth anniversary of the Port Said Stadium rampage. During the second one, he unveiled a LE10bn development plan for Sinai.