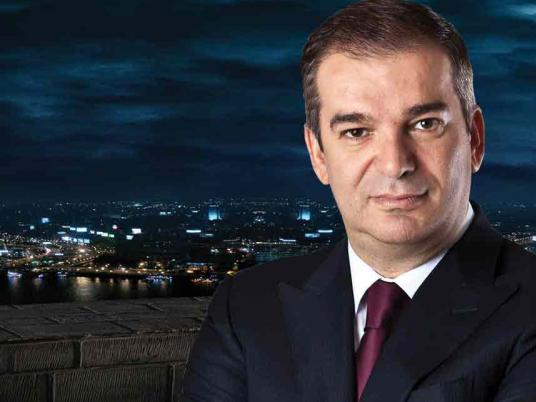 Cairo's street and bridges were strewn with billboards bearing the phrase "Al-Qahira wal Nas" — "Cairo and the People" — in July 2009. The phrase had no clear identity and left no clue as to the product it was advertising.
A few days later, the same phrase appeared on TV screens as a new satellite channel broadcasting on the Egyptian NileSat broadcast promos whose slogan was: "Al-Qahira wal Nas … the boldest channel in Ramadan."
Making a Ramadan-only appearance amid the usual holy-month television frenzy, Al-Qahira wal Nas has left an impression on the public since its first season. Unlike other channels, it was broadcasting fewer soap operas while focusing on talk shows. This Ramadan, more than a year after the revolution that toppled the rule of President Hosni Mubarak, politics have become an even more burning issue for the channel.
The channel is owned by Tarek Nour, a well-known advertising guru and industry pioneer. He introduced Western-style commercials that are known for being sharp and witty, while retaining an Egyptian spirit.
Channel CEO Yasmin Abdallah said Nour wanted Al-Qahira wal Nas to introduce something unique to TV.
"Nour wanted to bring to the public a channel that was different and one that summed up his experience in the field of television work, which exceeds 20 years," Abdallah said.
This year, the show continues with a more pronounced political twist. A show titled "Without Censorship," presented by Wafaa al-Kilany, hosts actors and singers who are asked an array of political questions, from their stand on normalization with Israel to their opinions on Mubarak regime icons. Love affairs are also covered.
This year, the channel became the hosting space for the monologues of famed journalist Ibrahim Eissa, the chief editor of daily newspaper Al-Tahrir, once Mubarak's staunch opponent and now a fierce critic of the Brotherhood. In his show, "Ibrahim and the People," Eissa resorts to his signature satire to discuss political and social issues.
But perhaps most dedicated to sensationalist politics is Lebanese host Tony Khalifa's "The Time of the Brothers," a comeback of his yearly show, but this time with staunch criticism of the Brotherhood following the group's ascent to power in Egypt. The show's most notable guests include Mostafa Bakry, a reporter and former MP known for his opposition to the Brotherhood, and Islamic preacher Safwat Hegazy, a supporter of President Mohamed Morsy. Khalifa's sharp and sensational questions often hit the sensitive chords of his guests.
But whether Al-Qahira wal Nas is contributing to the construction of an intelligible discourse is questionable.
Yasser Abdel Aziz, a media consultant and analyst, told Egypt Independent that he found the channel impressive on many levels. But at the end of the day, "the content is looming in a context of entertainment and is mostly dependent on some sensationalist tendencies," he said.
Abdel Aziz added that the channel's talk shows followed a common logic, which is to host a guest with a well-known political orientation and to ask him about the opposite group. For example, a liberal guest would commonly be asked about the Brotherhood, which is meant to produce a fiery conversation.
"You can't really say these talk shows are presenting deep political content, because their main goal is to attract viewers to an entertaining fight," Abdel Aziz said.
Like most Ramadan shows, as an unscrambled channel, Al-Qahira wal Nas' business model revolves around commercials. According to media services firm Ipsos Egypt, TV viewership in 2009 rose by 18 percent and expenditure on commercials climbed by 54 percent. The number of commercials rose by 38 percent compared with the rest of the year, according to Ipsos.
"All our income comes from commercials. The high level of viewership in Ramadan enables us to cover the expenses," said Abdallah. "The channel has never failed to cover the costs of any of its shows."
The channel, which reserves an orbital slot on NileSat, only starts broadcasting less than a month before Ramadan. Even though renting a certain signal for an entire year and only broadcasting content for less than two months might seem too expensive, the revenues from running commercials are enormous. It costs an advertiser about LE4 million to run a commercial 250 times during Ramadan, according to the financial daily Al-Mal's estimates for this year.
Abdallah said the channel would continue to broadcast year-round starting this Ramadan. Meanwhile, its crew is gearing up to announce the details of their shows.