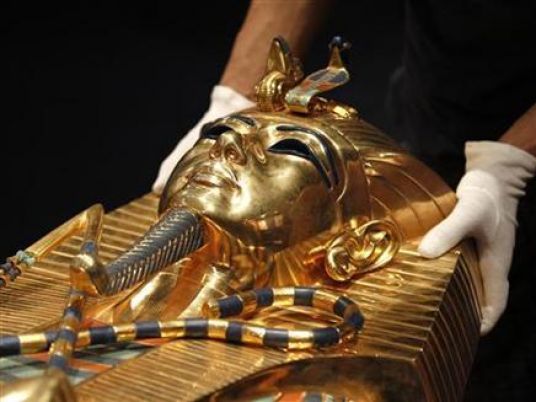 An exhibition of antiquities of the golden pharaoh king Tutankhamun will be shown in cities around the world, starting in Los Angeles, on March 23, Egypt's Antiquites Minister Khaled al-Anani said on Monday.
The exhibition includes 166 artifacts, not including the basic pieces of Tutankhamun, Anani said, adding that the exhibition will be the best ambassador to Egypt, and provide global publicity for the Grand Egyptian Museum.
He added that the full collection of Tutankhamun contains about 5,000 pharaonic pieces, and are scheduled to be in the Grand Museum, which is scheduled to be inaugurated by the end of this year after its inauguration stumbled for the past four years.
Anani pointed out that the Grand Museum enjoys great care and attention from President Abdel Fattah al-Sisi, who recommended the need for regular financial inflows to the museum until it is completed as soon as possible, given Egypt's importance on the map of international tourism.
He added that the work in the Grand Museum has witnessed a real boom since 2016 thanks to the care and attention of the President after years of stumbling.
Anani added that the Grand Museum will change the map of global tourism in Egypt and the world, which will reflect on tourist arrivals to Egypt significantly.