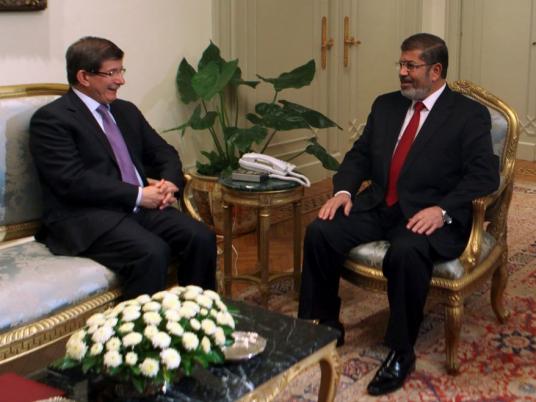 The Turkish Central Bank plans to deposit US$2 billion in the Central Bank of Egypt, a sum earmarked for funding small and medium-size enterprises, said presidential spokesperson Yasser Ali on Monday.
Turkish Foreign Minister Ahmet Davutoglu and President Mohamed Morsy came to this agreement on the sidelines of a meeting of international monitors regarding Syrian refugees, Ali said, adding that Turkish Prime Minister Recep Tayyip Erdogan is also planning to visit Egypt soon.
After the meeting, Davutoglu said that Turkey agrees with Morsy's views on Syria, and that he is optimistic that the crisis could be resolved.
The quartet of monitors, an initiative launched by Morsy during his visit to Tehran last month for the Non-Aligned Summit, includes representatives from Egypt, Iran, Turkey and Saudi Arabia. Saudi Arabia failed to attend the first meeting of the quartet on Monday.
"Turkey has made efforts in this regard — alone at first, and then with the Arab League and the United Nations," Davutoglu said. "But Syrian President Bashar al-Assad did not deliver."
"A regime that kills its people cannot survive," he added. "We must work together to stop the bloodshed and make the transition possible, for it has become a humanitarian crisis."
He also believed the new UN envoy to Syria, Lakhdar Brahimi, does not have the full support of the United Nations. "I hope Brahimi's mission does not give Assad more time to kill his people, like that of former UN and Arab envoy Kofi Annan's did," he said.
On the topic of Iran's influence in Syria and support for its regime, Davutoglu said this could be exploited in a positive way so as to stop the bloodshed.
He also stressed Turkey's support for the democratization process in Egypt. "The success of Egypt is a success for the whole region," he said.
Finally, regarding the anti-Islam film that sparked outrage across the Muslim world, Davutoglu said Turkey agrees with Egypt that religion should be respected, but called on demonstrators to protests peacefully rather than portraying Muslims in a poor light by assaulting foreign embassies.
Edited translation from Al-Masry Al-Youm