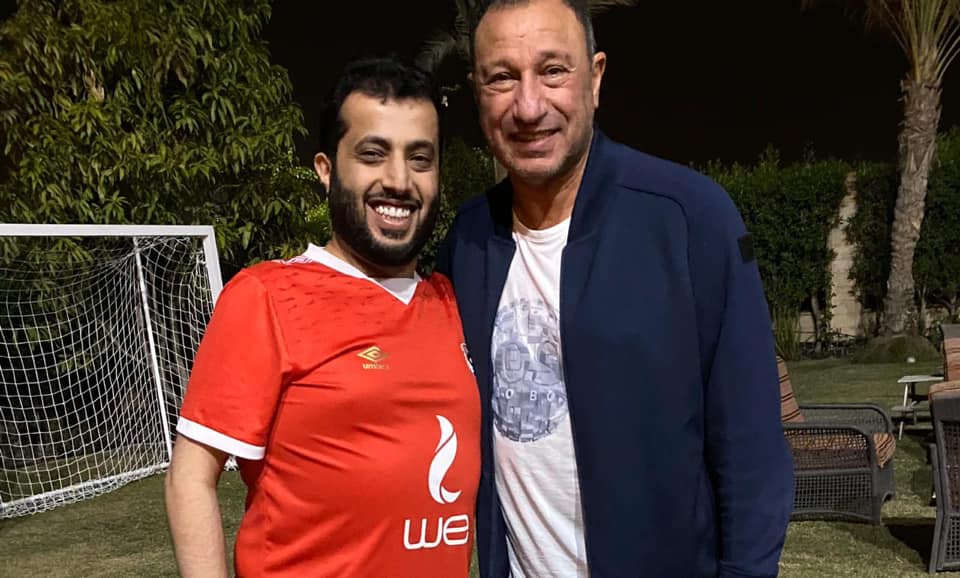 Former Pyramids FC chairman, current owner of the Spanish club Almeria, and Chairman of General Authority for Entertainment Turki El-Sheikh visited Ahly club president Mahmoud Al-Khatib at his home in order to check on his health. Khatib welcomed Sheikh with tenderness and appreciation, according to Sheikh's post on Facebook.
Commenting on several photos of himself with Khatib, Sheikh captioned the post: "During my visit to my big brother Khatib. Thankfully, he is fine."
"I was honored to meet his amazing family and ate the best food in the world there," he added.
In response to these warm comments, Khatib expressed his appreciation for Sheikh's visit and his intimate feelings towards Ahly's leaders and fans.
They scheduled another meeting for after Khatib's return from a medical trip abroad.
This step toward resolution initiated by Sheikh came after a conflict between Sheikh and Ahly club's administration, and Khatib in particular, in 2018.
Sheikh alleged that he spent LE6 million to support Al-Khatib in elections for the club's presidency. He further pointed out that Khatib asked him to participate in some of the club's deals related to buying and selling players.
Due to Sheikh's participation in the elections, which crowned Khatib as the club's head, relations between Khatib and Sheikh were previously strong. Sheikh offered full support to Ahly during its confrontation with Atletico Madrid in 2017 at Borg El Arab Stadium. The match slogan was "peace against terrorism."
At the match, Sheikh was announced as the honorary head of the Ahly Sports Club in a press conference. The title was awarded in recognition for his contributions to many of the club's deals and projects.
The positive relationship did not last because the club hired a new coach, which prompted Sheikh to quit the club and open fire on the club administration in a series of argumentative statements issued in several media outlets.
Sheikh also filed several legal complaints against the club amid the tensions between him and Ahly's administration, including Khatib.
In July 2018 Sheikh decided to drop the lawsuits against Ahly club, commenting, "No one can drive a wedge between us. I love Ahly and I cannot and will not let anyone talk badly about them," he said.
He later decided to recuperate his cooperative relation with Khatib, wishing him a smooth recovery from his illness on his social media accounts, paving the way for the reconciliation.
Photo credit: Turki Al-Sheikh's Facebook page