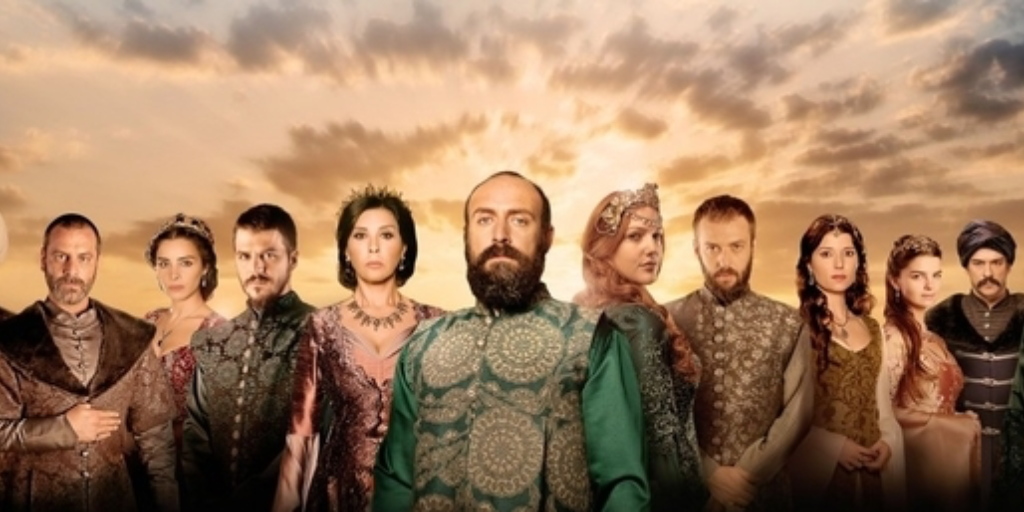 After more than ten years of being the main supporter of Turkish television drama, Saudi satellite network the MBC group announced it is suspending all Turkish soap operas.
With no prior notice, viewers noticed that the Turkish dramas they were arduously following had suddenly been taken off air.
The ban provoked a wave of controversy, which led privately owned MBC, one of the largest broadcasting networks in the Middle East, to announce on Monday that it had received direct orders to halt the broadcast of Turkish TV dramas amid recently escalating diplomatic tensions between Turkey and some Arab countries.
Relations between Turkey and Arab countries soured after Turkey indicated it was siding with Qatar in the midst of a diplomatic spat between the tiny Gulf nation and a host of other Arab countries, including Egypt and Saudi Arabia, which cut ties with it due to Qatar's supposed support for terrorism.
Meanwhile, MBC group spokesperson Mazen Hayek said that the decision includes several regional TV channels as well, and it goes beyond just being a professional and commercial decision. He explained that it will perhaps even provide an opportunity for Arab countries to create more domestically produced TV dramas.
"It's a very good opportunity for Arab drama to compete with the Turkish ones as all the professional and potential possibilities must be provided including the collaboration with the biggest possible number of writers, directors, technicians, actors and artists and to ensure high production standards to cope with the regional and global competition," he said.
Hayek added that the ban includes all kinds of Turkish programs, and immediately affects six shows.
MBC group, run by Saudi businessman Walid al-Ibrahim along with other Saudi investors, said that the network is planning to replace the Turkish shows with Arab and Latin American ones.
Hayek told The Associated Press that it is not immediately clear who took the decision to impose the ban and he could not confirm if it was taken by the MBC management or not.
Mohamed Abdel Qader, Director of the Turkish Affairs Unit at the Al-Ahram Center for Regional and Strategic Studies, told Egypt Independent that the move is significant as it will doubtlessly have a negative impact on Turkey and its regional influence.
"The country depends on its soap operas to cultivate the Turkish culture and lifestyle in the Middle East and it plays a pivotal role to attract Arabs to visit the country," he maintained.
Turkey ranks sixth among the most important tourist destinations on the globe. According to Turkey's cultural attaché in the UAE Saleh Awzir, the number of visitors to Turkey's main tourism destinations, especially those where famous dramas have been filmed, has surged.
Abdel Qader said that MBC's decision was political, stressing it was mainly taken as a means to halt Turkish soft power that has in recent years grown in the region.
"Turkey has succeeded to cultivate its culture into millions of Middle Eastern homes through their dramas, which have touched people very quickly because of the beautiful natural scenes and dramatic plots [and] some series presented historical eras like the Ottoman Empire," he said.
Expert in Turkish and Iranian affairs Medhat Hamad agrees, telling Egypt Independent that the decision is was solely based on political manoeuvring. He explained that MBC group's Saudi owners are pressing Turkey to change its policies and give up its support to the Muslim Brotherhood and Qatar.
However, Hamad does not believe that Turkey's tourism sector will be particularly affected by the ban considering that Arabs are not the largest group vacationing in Turkey. He added that visitors from Egypt are already decreasing due to the country's economic woes.
"The Saudi pressure on Turkey will not force Turkey to give up its strategies. For example, after four Arab countries cut ties with Qatar, Qatar is still the same," Hamad said.
On his part, popular Egyptian TV host Amr Adib praised MBC's decision and urged Egypt's satellite channels to follow suit. "The latest episode of one of the famous Turkish soap operas reached more than 25 million viewers and they gained huge profits from that," he said on his nightly talk show, adding, "Turkey is neither supporting Egypt nor Saudi Arabia so why are we supporting them?".
Among the Turkish public, the ban unsurprisingly stirred controversy. Öztürk Oran, head of the Istanbul Chamber of Commerce, and who is responsible for promoting Turkish soap operas globally, criticized the decision. "Turkey is selling its soap operas worldwide and this decision will have no impact on the industry as long as it maintains a professional quality," he said, according to Turkish press.
He added that he does not believe that the suspension will affect the viewership of Turkish drama, because people have a big passion for these kinds of shows. He also announced that they are planning to launch a Turkish channel targeting Arab audiences that will solely broadcast translated and dubbed Turkish dramas.