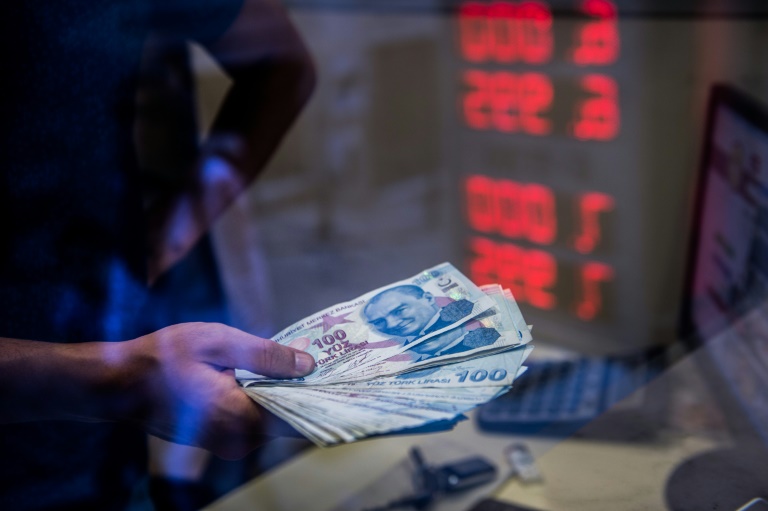 Turkey on Friday threatened to respond in kind if Washington imposed further sanctions over the detention of an American pastor which has sparked a diplomatic standoff and battered the Turkish currency.
A Turkish court on Friday turned down another appeal to free the pastor in the third such rejection, his lawyer said.
As Ankara sought to reassure markets after the lira went into a tailspin over the deepening spat, US Treasury Secretary Steven Mnuchin warned more sanctions would be on the way until Andrew Brunson was released.
Last week, US President Donald Trump said he had doubled the tariffs on aluminium and steel tariffs from Turkey, prompting Ankara to sharply hike tariffs on several US products.
On Friday, Turkey's Trade Minister Ruhsar Pekcan said to expect more of the same.
"We've already responded based on the World Trade Organization rules and will continue to do so," state-run Anadolu news agency quoted him as saying.
The nearly two-year detention of Brunson, who is being held on terror charges, has soured relations between the two NATO allies and sent the lira tumbling.
The lira, which earlier this week traded at well over seven to the dollar, rebounded slightly over the last three days but on Friday it lost over five percent of its value around 1250 GMT.
By closing time, it had fallen to 6.03 against the greenback after touching 6.3 at one point.
Amidst the currency's sharp decline, the S&P and Moody's ratings agencies each downgraded Turkey's debt a notch, and S&P projected the country would face a recession next year.
On Thursday, Trump said Turkey had "taken advantage of the United States for many years" and referred to Brunson as a "great patriot" who was being held "hostage".
"We will pay nothing for the release of an innocent man but we are cutting back on Turkey!" he tweeted.
The court in the western city of Izmir ruled that Brunson, who faces 35 years in jail if convicted, would remain under house arrest, his lawyer Cem Halavurt told AFP. 'United'
US sanctions and the declining lira created panic in the markets but on the streets, many Turks appeared to support the government's retaliatory measures.
Muharrem Bozkurt sounded upbeat despite the lira crisis.
"As we are a country where patriotic sentiments are high, no matter how much the dollar increases, we will get over this," he told AFP.
Others agreed. "American sanctions will have no effect on us as long as we remain united," said another man, Ibrahim Aktar.
Can Buyuker, who works in an exchange bureau in a busy Istanbul neighbourhood, said both Trump and Erdogan were playing up to nationalist voters.
"Both men are seeking to increase their votes by creating an enemy. That's politics," he said.
The latest US announcement came after Turkish Finance Minister Berat Albayrak tried to soothe the markets during an unprecedented conference call with hundreds of foreign investors, insisting Turkey would emerge "stronger" from the currency crisis and would not need an IMF bailout.
'Moderately convincing'
William Jackson, chief emerging markets economist at London-based Capital Economics said in a note that Albayrak gave a "moderately convincing performance".
But he suggested Turkish "policymakers only really seem to have done the minimum needed."
S&P said the downgrade of the debt rating to "B+" "reflects our expectation that the extreme volatility of the Turkish lira" which will undermine Turkey's economy.
"We forecast a recession next year. Inflation will peak at 22 percent over the next four months, before subsiding to below 20% by mid-2019."
Moody's likewise cited the weakening lira and downgraded Turkey's debt to Ba3, as well as "heightened concerns" for the central bank's independence and "the lack of a clear and credible plan" to address the causes of recent financial troubles.
The Fitch ratings agency described Turkey's policy response to the lira's deprecation as "incomplete" and "unlikely on its own to sustainably stabilise the currency and the economy".
Analysts say a sharp hike in interest rates is needed to stop the declining value of lira, but Ankara is opposed to any rate hike which would likely undercut growth.
Erdogan has remained defiant in the face of the crisis with Washington, saying Turkey could turn to new alternative markets.
Despite its economic woes, Turkey did this week find support from friendly Qatar, which promised to make a $15 billion direct investment in the country.
Erdogan has also held talks with the German and French leaders, a sign that Ankara is moving closer to Europe after several years of sharp tensions.
There have notably been unexpected moves in key legal cases that have been bones of contention with the EU, although Ankara always insists its judiciary operates independently of politics.
An Istanbul court on Wednesday allowed the release of Amnesty International's Turkey chair Taner Kilic, who spent more than a year in jail over alleged links to a 2016 coup bid.
The previous day two Greek soldiers held by Turkey since March for illegally crossing the border were also freed in a move warmly welcomed by Athens.