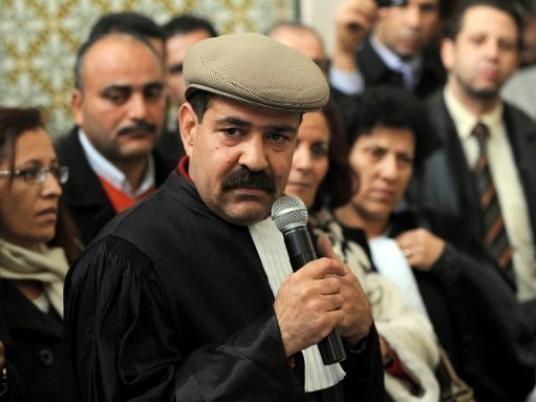 TUNIS — Opposition leader and outspoken government critic Chokri Belaid was shot dead Wednesday, in what the Tunisian premier called "an act of terrorism," as the country grapples with growing political instability.
The murder prompted President Moncef Marzouki to scrap a trip to Cairo where he was due to attend a summit of the Organization of Islamic Cooperation and return home in the afternoon, one of his advisers, Ghassen Dridi, told AFP.
The family of Belaid, who headed the opposition Democratic Patriots party and was a harsh critic of Tunisia's Islamist-led government, accused the ruling Ennahda party of being behind the murder.
"My brother was assassinated. I am desperate and depressed," Abdelmajid Belaid, brother of the slain leader, told AFP.
"I accuse [Ennahda leader] Rached Ghannouchi of assassinating my brother," he said.
The wife of the opposition leader, speaking to private radio station Mosaique FM, said he was hit by two bullets as he left his home.
Tunisian Prime Minister Hamadi Jebali denounced Belaid's murder as an "act of terrorism" against Tunisia.
He said Belaid was shot dead with three bullets fired from close range by a man wearing a traditional long garment with a pointed hood.
"This is a criminal act, an act of terrorism not only against Belaid but against the whole of Tunisia," Jebali from the Ennahda party told Mosaique FM, while promising to do everything possible to swiftly arrest the murderer.
"The Tunisian people are not used to such things. This is a serious turn … our duty to all, as a government, as a people, is to be wise and not fall into the criminal trap which seeks to push the country into chaos."
Belaid's party belonged to the Popular Front coalition of leftist parties that has emerged in opposition to the Tunisia government.
His assassination comes at a time when Tunisia is witnessing a rise in violence fed by political and social discontent two years after the mass uprising that toppled the former dictator Zine al-Abidine Ben Ali.
Several opposition parties and trade unions have accused pro-Islamist groups of orchestrating clashes or attacks against them.
Some two hundred protesters gathered Wednesday outside the interior ministry on Habib Bourguiba Avenue in central Tunis, epicenter of the 2011 revolt, to denounce the killing.