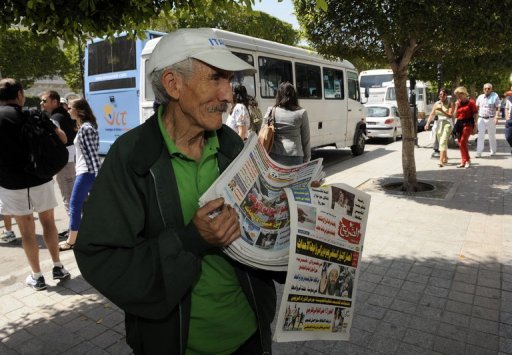 Tunisian journalists and media figures on Thursday accused the government of clamping down on freedom of expression, as the Islamist-led state comes under fire for tightening its grip on the press.
Two state-run newspapers said their new director, whom they consider too close to the ruling Ennahda party, censored an article they were to publish criticizing his appointment by the government.
And the head of a TV channel gave himself up to the authorities on Thursday under an arrest warrant, claiming this was ordered in retaliation for a political satire show his station aired.
International NGOs have recently criticized the Tunis government for seeking to manipulate the media, including by appointing new directors to head public media groups without consulting their staff.
"This is harassment," a journalist and trade unionist said of the alleged censorship by state-owned Dar Assabah press group director Lotfi Touati of newspapers Le Temps and Essabah.
The two dailies were to have run an article criticizing Touati's recent appointment to his position by the government, but he stopped it being printed overnight Wednesday and called the police to the office, Sana Farhat told AFP.
"The new heads want to control the newspapers' editorial line," Farhat added, accusing the director of taking orders from the government.
She said the article, which was also to announce an 11 September strike, was replaced by advertising.
Meanwhile Sami Fehri, the head of Ettounsiya TV, turned himself in to the attorney general's office almost a week after an arrest warrant was issued for him, his lawyer told AFP.
In a video statement released during the night, Fehri said he was going to the attorney general to allege unlawful prosecution and an attack on freedom of expression.
"Freedom of expression with which we live since 14 January [2011, the day former President Zine al-Abidine Ben Ali fled Tunisia] is threatened," said Fehri.
He believes his arrest was ordered because of his channel's satirical puppet show, which was recently and abruptly pulled, allegedly under pressure from the authorities.
Fehri last week told Express FM radio he would not fight the arrest warrant.
"A huge machine has crushed us to death," he said of the government. "I would never have imagined it could happen like that. They have crossed every red line."
The Tunisian presidency said on Thursday it "strongly opposes corporal punishment" of media professionals.
"For President Moncef Marzouki current excesses and abuses of freedom that are commonplace are preferable to a return to a tyranny that silenced all dissenting voices," the presidency's Facebook page said.
"The presidency expects the judiciary to exonerate Sami Fehri if he has been jailed for political reasons."
Official news agency TAP has said Fehri was being charged with "illegal use of Tunisian state television resources" during Ben Ali's rule.
The authorities say they want to "clean up" the system of accomplices of the fallen regime.
Fehri was an associate of Belhassen Trabelsi, the exiled brother-in-law of Ben Ali. Trabelsi has fled to Canada.
The warrant against Fehri came days after protests by Tunisian journalists accusing the government of seeking to curtail press freedoms and take control of the country's media.
Media watchdog Reporters Without Borders on Wednesday condemned the government for tightening its control of state media, highlighting the "urgent need" for independent regulation of the broadcasting sector.