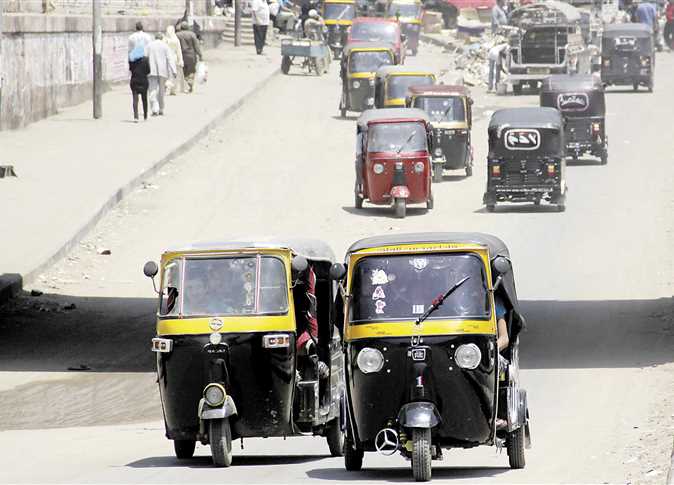 Tuk-tuks are officially banned in New Cairo, following a decision by the head of the New Cairo Authority Abdel Raouf al-Ghaity.
A post on the New Cairo authority's Facebook page said that the First Settlement Security Department launched a crackdown to prevent tuk-tuks from driving inside the city, and seized a group of vehicles in the First Settlement, adding the crackdown will continue daily.
Import ban
Back in 2021, the Ministry of Trade and Industry announced it has stopped the import of all tuk-tuk components in implementation of a Cabinet decision as part of a plan to replace tuk-tuks with minivans.
In Egypt, three major entities work in the field of assembling tuk-tuks, namely the Ghabbour Group, which controls 80 percent of the market, a factory affiliated with the Raya Group, and a factory affiliated with the Ezz Elarab Automotive Group.
Regarding a proposal to converting tuk-tuk production lines to manufacture minivans, Saeed said that the two production lines have different requirements.
A source in a tuk-tuk production factory said that workers were surprised by the published decision, adding that some shipments were already on its way to Egypt, wondering about the possibility of allowing its entry.
The cabinet formed a committee in March headed by the minister of trade and industry and a number of representatives of the concerned authorities, to set the executive and financing mechanisms for a project to replace tuk-tuk with minivans across Egypt.
The committee was granted a deadline to come up with proposals until May.
Former Minister of Industry Mounir Fakhry Abdel Nour issued a decision in 2014 to stop importing tuk-tuks permanently, while allowing the import of its production components only.