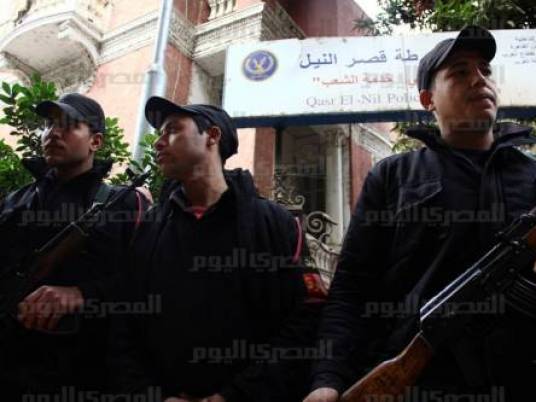 Privately owned newspaper al-Shorouk leads this morning with " … and the era of public police starts." The newspaper says that a Muslim Brotherhood public committee arrested six people yesterday in Moqattam for allegedly attacking the group's headquarters, turning them over to police for possessing Molotovs.
The same paper reports that Jama'a al-Islamiya is calling on Egyptians to arrest anyone attempting to damage public property and turn them over to authorities. In a statement, the Construction and Development Party, the group's political arm, asked citizens to arrest such people and call the police, adding that "if he resists you, lock him up or tie him to a tree." The Salafi Nour Party, for its part, attacked the decision, saying that such calls were an open door to civil war.
The paper reports, on a separate note, that Interior Minister Mohamed Ibrahim said during a meeting at the Police Academy yesterday that he would not tolerate any attempts to politicize the police, describing himself as "a man of the police force." He added that police would be armed within days, though by law new recruits cannot be armed until six months after graduating from the academy.
Government mouthpiece Al-Ahram writes, "Police strikes decline and minister meets with CSF officers." The paper says that the amount of police on strike around the country is below 1 percent of the total force, adding that the officers demanded arms and also emphasized the importance of differentiating between revolutionaries and rioters.
Mostafa Deweidar, an official spokesperson for the Public Prosecution, was also quoted by the paper as saying that powers of arrest have not been granted to citizens, saying that the justice minister has the right to grant such powers but that the prosecutor general has merely emphasized that the police should do their job.
The FJP mouthpiece Freedom and Justice newspaper leads with, "Eight thugs arrested in an attempt to attack the MB office.' Rashad al-Bayoumi, deputy guide of the Muslim Brotherhood, said that the attackers will be punished, and also said that they should think of the country's well-being. According to the Muslim Brotherhood mouthpiece, 15 people were arrested near the headquarters with Molotovs.
On a separate note, Hassan Ibrahim, the Freedom and Justice Party's secretary general, said that only police can execute their own roles and that citizens should not work outside the law. He added in a Facebook statement that he trust the ability of the police to maintain safety without violating human rights.
Egypt's papers:
Al-Ahram: Daily, state-run, largest distribution in Egypt
Al-Akhbar: Daily, state-run, second to Al-Ahram in institutional size
Al-Gomhurriya: Daily, state-run
Rose al-Youssef: Daily, state-run
Al-Dostour: Daily, privately owned
Al-Shorouk: Daily, privately owned
Al-Watan: Daily, privately owned
Al-Wafd: Daily, published by the liberal Wafd Party
Youm7: Daily, privately owned
Al-Tahrir: Daily, privately owned
Al-Sabah: Daily, privately owned
Freedom and Justice: Daily, published by the Muslim Brotherhood's Freedom and Justice Party
Sawt al-Umma: Weekly, privately owned
Al-Arabi: Weekly, published by the Nasserist Party
Al-Nour: Official paper of the Salafi Nour Party