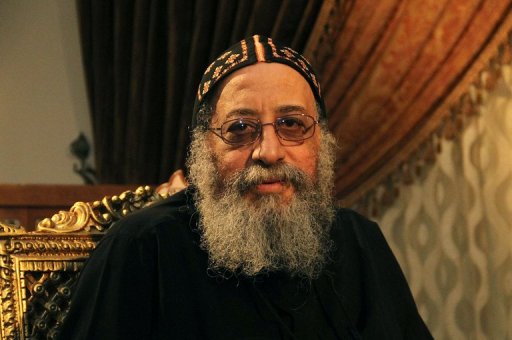 Tuesday's papers feature extensive coverage on the social and political ideologies of Pope Tawadros II, who was selected for the seat of the 118th patriarch of the Coptic Orthodox Church in a ceremony on Sunday.
Nearly every daily paper publishes the newly-elected pope's bold statements on some of the sensitive issues of Coptic rights, and his opinion on Egypt's new Islamist head of state.
In a two-page spread, the independent daily Youm7 runs an interview with Tawadros, who said that the church does not fear the rise of Islamists on the political scene, adding that it is too early to evaluate the performance of President Mohamed Morsy after three months in office.
A critical issue, however, was raised during the interview concerning the "deliberate" marginalization of Copts in society. The paper quotes him as saying that Egypt's Christians have been suffering for decades from "a democracy on paper only."
The privately-owned Al-Shorouk adds more substantive statements for Tawadros, who condemned the forced emigration of Copts, which, he says, "tarnishes Egypt's reputation worldwide."
Egypt witnessed sporadic bouts of sectarian strife in more than one governorate last month, where Coptic families were forced to abandon their homes due to the threat of Islamist militants.
Speaking about the upcoming constitution, Tawadros told the independent daily Al-Dostour that he is looking forward to the final draft of the constitution, hoping to guarantee Copts' full citizenship rights and equality.
He also recommended that Article 2 remains in the constitution as written in 1971 constitution, without any amendment.
The state-owned Al-Ahram leads with a story on intensified security across Sinai, including the deployment of armored personnel carriers, tanks and soldiers to ensure security and to combat smuggling to the Gaza Strip. The paper adds that the government raised its alert levels on the Egyptian-Israeli border as well.
Reporting on the same news, Al-Shorouk attributes the tight security measures to poor police presence after the policemen's strike in front of North Sinai government building. Police were protesting the killing of three of their colleagues by unknown assailants on Saturday. Policemen announced their open-ended strike until they are reinforced with well-equipped and well-armed security forces to confront any potential future attacks.
Predictably, none of these issues are mentioned in state-owned papers including Al-Ahram and Al-Akhbar, which focus solely on the so-called great efforts of the military forces to salvage the situation. Both Al-Akhbar and Al-Gomhurriya run similar top headlines. Al-Akhbar leads with "Army and police tanks take control of Sinai," while Al-Gomhurriya's front page reads: "Sinai is under control."
Freedom and Justice, the mouthpiece of the Muslim Brotherhood's political arm, writes that the government and the Federation of Egyptian Chambers of Commerce have finally reached a common ground on the early closure of stores issue. It reports that Prime Minister Hesham Qandil announced Monday that stores, coffee shops and restaurants will close at midnight in an effort to cut down electricity consumption. Pharmacies and touristic establishments are exempted from the law.
The Cabinet backed away from its initial bill to close shops at 10 pm and coffee shops and restaurants at midnight after facing heavy criticism pointing out that the proposal could increase unemployment and exacerbate insecurity. The decision is set to be enacted on 1 December.
On its front page, the independent daily Al-Tahrir posts a sarcastic caricature of Morsy in blue pajamas asleep between two bodyguards in black suits.
The cartoon refers to the "exaggerated" security measures imposed during the president's visits outside Cairo. Morsy has recently been under fire by media for being surrounded with bodyguards and assigning a large number of troops to secure him. This categorically contradicts his theatrical appearance in Tahrir Square, after winning the presidential elections, where he opened his jacket to show that he is not wearing a bullet-prove vest because he has nothing to fear.
Egypt's papers:
Al-Ahram: Daily, state-run, largest distribution in Egypt
Al-Akhbar: Daily, state-run, second to Al-Ahram in institutional size
Al-Gomhurriya: Daily, state-run
Rose al-Youssef: Daily, state-run
Al-Dostour: Daily, privately owned
Al-Shorouk: Daily, privately owned
Al-Watan: Daily, privately owned
Al-Wafd: Daily, published by the liberal Wafd Party
Youm7: Daily, privately owned
Al-Tahrir: Daily, privately owned
Al-Sabah: Daily, privately owned
Freedom and Justice: Daily, published by the Muslim Brotherhood's Freedom and Justice Party
Sawt al-Umma: Weekly, privately owned
Al-Arabi: Weekly, published by the Nasserist Party
Al-Nour: Official paper of the Salafi Nour Party