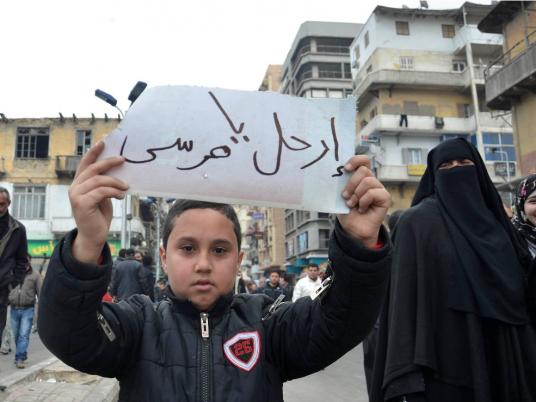 Independent daily Youm7 publishes exclusive news on President Mohamed Morsy.
The paper reports that state-owned Egyptian television has been "secretly" producing a documentary film entitled "A Year of Achievements," which lays out the alleged achievements of Morsy since taking office.
The 45-minute film is scheduled for release on 30 June, the first anniversary of Morsy's ascent to power, which will coincide with planned mass demonstrations to protest the president's lackluster performance.
The film will recount Morsy's grueling life journey to the presidency, which, the movie claims, has influenced who he is today.
The writer of the film's script, Ashraf Mubarak, a journalist at the state-run Nile News TV channel, stressed that the film would present a credible perspective of Morsy's first year in office.
This news is unsurprising as it follows the Muslim Brotherhood's similar attempt to polish Morsy's image with a 124-page book entitled "Months of achievements…President Morsy builds Egypt anew."
The book was harshly criticized for presenting biased information while turning a blind eye to the president's inevitable failures.
The liberal Al-Wafd paper indicates that members of the Tamarod campaign are rolling up their sleeves to convey their message to as many people as possible by stamping "Tamarod campaign and 30 June" on money bills.
The movement, which was launched less than a month ago, is distributing petitions across governorates that call for withdrawing confidence from Morsy.
The paper, published by the opposition Wafd Party, quotes Amr Attia, one of the campaigners, as saying, "Stamping paper currency is an easy way to reach all sectors of society, including members of the Brotherhood."
Maybe one day the president will receive some of these paper bills and realize how frustrated people are feeling because of his policies, Attia added.
Reporting on the same issue, independent daily Al-Watan writes that the Tamarod campaign, which is gaining widespread popularity in Egypt, is now focusing on expanding its efforts abroad.
Members of the Egyptian expatriate community living in Germany added two hundred signatures to Tamarod's petition during a demonstration in one of Berlin's squares against the Islamist-dominated regime.
Protesters reportedly chanted anti-Brotherhood and anti-Morsy slogans, and held banners with pictures of martyrs of the revolution that said "Morsy is Egypt's new pharaoh."
On the back page of independent daily Al-Shorouk, vocal comedian Bassem Youssef raises questions about the credibility of so-called Islamic TV programs.
The cardiac surgeon and satirist believes that Islamic law is being crudely manipulated by the anchors of these types of TV programs.
Rather than instilling Islamic morals, they curse, use offensive language, and make sexual gestures, he says.
Youssef goes on to explain in his weekly opinion article that these men often accuse of defamation those who criticize them, in a bid to try to silence their detractors.
The front-page of the state-run flagship Al-Ahram features extensive coverage of efforts made by Hesham Qandil and the cabinet to alleviate citizens' burdens.
The paper has an article in which the Ministry of Finance guarantees that "measures will be taken to resolve the power outage crisis." They also have a short piece about the promotion of 400,000 employees and granting next June of permanent contracts to temporary workers in the administrative body of the state.
Both articles delve into tedious details, but evoke hope in the face of looming crises.
Another article represented a classic example of Al-Ahram's biased editorial policy, which solely voices the government's views.
Indeed, they reported that the Council of Ministers is considering providing comprehensive health care insurance to all, which, they say, would cover all the costs of medical treatment, operations, and hospital accommodation.