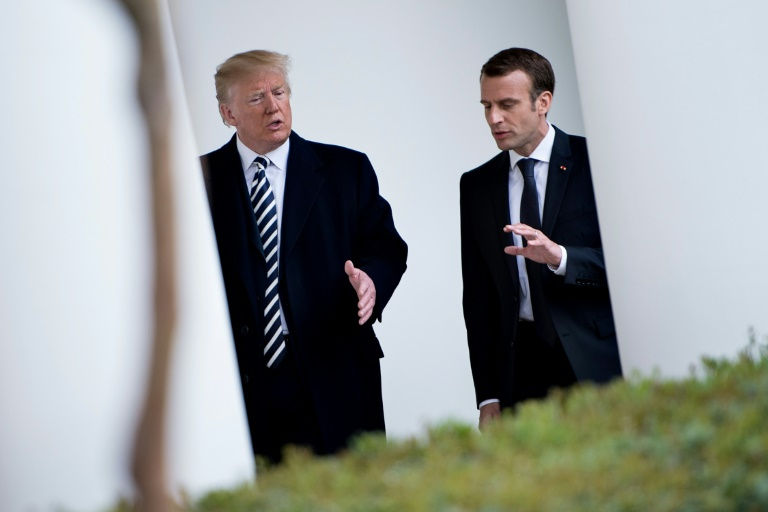 US President Donald Trump and French counterpart Emmanuel Macron called for a "new" deal with Iran Tuesday, looking beyond disagreements over a landmark nuclear accord that still hangs in the balance.
Trump laid transatlantic divisions bare during a visit by the French president, pillorying a three-year old agreement designed to curb Iran's nuclear program.
The US leader described the deal as "insane" and "ridiculous," despite European pleas for him not to walk away.
Instead, Trump eyed a broader "deal" that would also limit Iran's ballistic missile program and support for militant groups across the Middle East.
"I think we will have a great shot at doing a much bigger, maybe, deal," said Trump, stressing that any new accord would have to be built on "solid foundations."
"They should have made a deal that covered Yemen, that covered Syria," said Trump. "No matter where you go in the Middle East, you see the fingerprints of Iran behind problems."
Macron admitted after meeting Trump that he did not know whether the US president would walk away from the nuclear deal when a May 12 decision deadline comes up.
"I can say that we have had very frank discussions on that, just the two of us," Macron told a joint press conference with Trump at his side.
Putting on a brave face, he said he wished "for now to work on a new deal with Iran" of which the nuclear accord could be one part.
Neither Trump nor Macron indicated whether Iran would get something in return for concessions on its ballistic programs, activities in the Middle East or extending nuclear controls beyond 2025.
Trump — true to his background in reality TV — teased his looming decision.
"This is a deal with decayed foundations. It's a bad deal, it's a bad structure. It's falling down," the US leader said. "We're going to see what happens on the 12th."
Trump's European allies have repeatedly tried to persuade him not to abandon the 2015 deal, which gave Iran massive sanctions relief and the guarantee of a civilian nuclear program in return for limiting enrichment that could produce weapons grade fuel.
German Chancellor Angela Merkel will renew those calls when she visits Washington on Friday.
Iran, meanwhile, has warned it will ramp up enrichment if Trump walks away from the accord, prompting a blunt warning from the US leader.
"They're not going to be restarting anything. If they restart it, they're going to have big problems, bigger than they ever had before. And you can mark it down," he said.
– Simmering tensions –
For months American and European officials have been working behind the scenes trying to find a compromise on Iran that allows the mercurial US president to claim a public victory, while keeping the deal intact.
More hawkish American officials accuse Europeans — particularly Germany — of putting business interests ahead of security, and of opposing a tougher stance against Iran to safeguard investments in the Islamic Republic.
That charge is sharply rejected by European officials, who are increasingly frustrated at spending time dealing with Trump's complaints rather than tackling Iran's behavior.
The disagreement threatens to plunge transatlantic relations to their lowest point since the Iraq War.
Trump's comments on Iran contrasts markedly with the exuberant welcome he gave the French leader.
Tuesday morning both men waxed lyrical about shared heroes of yore — from the Marquis de Lafayette to Alexis de Tocqueville — as they listened to strains of "La Marseillaise" and "The Star-Spangled Banner."
Later, the Trumps rolled out the red carpet for the Macrons once more at a lavish state dinner — of which the US first lady was said to have fine-tuned every last detail, from gold tableware to white floral centerpieces, for star guests including Apple CEO Tim Cook and media mogul Rupert Murdoch.
Melania Trump dazzled in a sequined Chanel dress of black Chantilly lace, while Brigitte Macron stepped out in a long-sleeved creamy white gown with gold lattice detailing by Louis Vuitton.
"May our friendship grow even deeper, may our kinship grow even stronger, and may our sacred liberty never die," Trump said in his toast to the Macrons.
In turn, the French leader spoke at length of "how deep, how strong, and how intense the relationship is between our two countries," and marveled at the unforeseen rapport he has forged with Trump.
"I got to know you, you got to know me. We both know that none of us easily changes our minds, but we will work together, and we have this ability to listen to one another," he said.
The key question is whether Macron can translate that privileged relationship into concrete results — as he also pushes for a permanent exemption for Europe from US steel and aluminum tariffs.
Earlier in the Oval Office, Trump offered a striking — and slightly awkward — sign of their much-vaunted intimacy.
"We have a very special relationship, in fact I'll get that little piece of dandruff off," Trump said, swiping something off Macron's jacket. "We have to make him perfect — he is perfect."