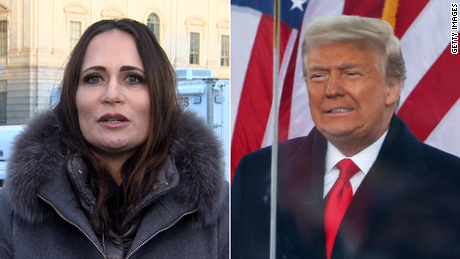 (CNN)Ex-President Donald Trump is considering the next escalation of his feud with the FBI, which has already put agents at risk and appears to be part of his effort to turn the search of his home for classified documents into a launch pad for his likely 2024 campaign.
Trump is trying to fight back as the legal mire deepens around him and some of his closest associates rooted in his false claims that the 2020 election was stolen. But the multiple criminal, congressional and civil probes swirling around the former President are doing nothing to dim his appeal to Republican grassroots voters who are flocking to candidates who have embraced his election denialism — as Wyoming Rep. Liz Cheney's primary defeat on Tuesday showed.
In the latest twist of the saga involving the FBI's removal of documents from Trump's Florida mansion last week, including some bearing the highest levels of classification, CNN reported on Wednesday that the former President is considering releasing surveillance footage of the bureau's search. The move might be motivated by Trump's desire to fire up his supporters with the impression that he is being persecuted, and there have been discussions of using it in campaign-style ads, one person familiar with the conversations told CNN.
It would likely cause deep 
alarm inside the FBI 
since its agents have already faced threats and intimidation from Trump supporters incited by the ex-President and his allies. Former FBI Deputy Director Andrew McCabe told CNN's Anderson Cooper on Wednesday that the leadership of the bureau would have "deep concern" at the implications of security camera footage of the search going public.
"When you are executing a search warrant for the purpose of recovering highly classified material, the last thing you want to have is a video of that material released to the public," McCabe said. He also warned tapes would pose an increased risk to agents involved in the search and would increase the threats to them from the ex-President's "most extreme supporters."
Still, the move would be consistent with Trump's long desire to discredit the FBI. And it would allow him to whip up anger over the search and distract from the real issue in the controversy — the fact that he took classified material to his home after his administration ended, not just in possible infringements of laws on presidential records but in a manner that could threaten national security.