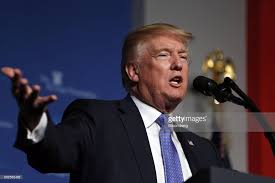 US President Donald Trump has stepped up the pressure on the National Football League over protests by its players during the national anthem by launching a petition and asking his supporters to show their patriotism by backing it.
The move came after NFL Commissioner Roger Goodell this week rejected Trump's calls to punish players who kneel for the anthem to protest racism. Trump has said the protests are unpatriotic and disrespectful of military veterans.
"The President has asked for a list of supporters who stand for the National Anthem. Add your name below to show your patriotism and support," said the petition issued on Thursday by the Trump Make America Great Again Committee, a fundraising organization for Trump and Vice President Mike Pence.
The petition was published on the Republican National Committee website. It did not indicate how many signatures had been received.
Players kneeling during "The Star-Spangled Banner" are protesting the killing of unarmed black men and boys by police across the United States, as well as racial disparities in the country's criminal justice system. More than half of all NFL players are black.
Former San Francisco 49ers quarterback Colin Kaepernick, who first popularized the gesture last year, said he settled on kneeling as a form of protest because it is widely seen as a gesture of respect.
Goodell said on Wednesday after a meeting of league owners that the NFL would continue to nurture players' efforts to fight racial disparities in the criminal justice system, believing this would make the urge to protest fade.
Trump has repeatedly expressed disdain for the protests since a rally in September. In a Twitter post on Wednesday, he called the NFL's decision, "Too much talk, not enough action."