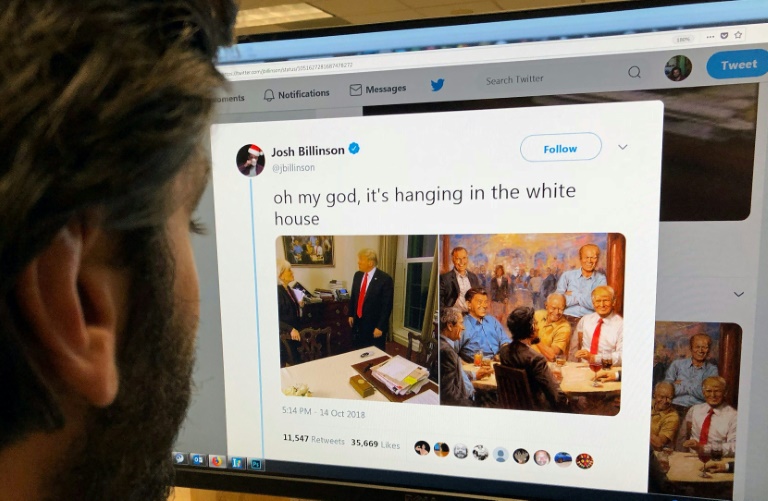 It could be any Republican president's fantasy: hanging out at a bar with fellow conservative American leaders of years, decades, and even centuries past.
For President Donald Trump, that fictional "happy hour" exists, in the form of a painting hanging at the White House that caused a huge uproar on social media when it was revealed over the weekend.
The president's critics say the scene is as real as some of the claims Trump made during his interview on "60 Minutes" that aired Sunday where a glimpse of the painting could be seen in the background.
Trump's likeness has been ruthlessly disfigured by "high" and "low" artists alike, who have made no secret of their dislike of the Republican president.
But in "The Republican Club," a painting by Andy Thomas, an uncharacteristically brawny Trump sports an affable, if slightly pinched smile as he is joined by the likes of Abraham Lincoln, Richard Nixon, Ronald Reagan, Teddy Roosevelt and George W. Bush.
The whole group is chatting around a table and seems to be having a jolly good time while sharing drinks, apart perhaps for Calvin Coolidge, who hovers in the background a short distance away.
Trump, who does not drink alcohol, appears to be having a soda.
Instead of sitting, Roosevelt has a foot propped up on a chair as he leans in intently, hand on one knee. Gerald Ford is leaning against a pillar. Reagan and Nixon are trading glances, and George H.W. Bush looks on. Eisenhower leans in next to Trump.
The fantasy creation was mercilessly mocked on social media.
One Twitter user wrote: "Neither Lincoln nor Teddy would be caught dead at this table."
"Like, you could borrow stuff from the Smithsonian or the National Gallery of Art but, nope, you're gonna decorate the White House with crap from the Things Remembered kiosk at the mall," wrote journalist Benjamin Freed in another comment.
Bucked by art world
Indeed, the Trump White House has a strained relationship with the art world. It has no curator — William Allman, who long held the post, retired last year and has yet to be replaced.
And when the Trumps asked the Guggenheim Museum to borrow a Vincent van Gogh painting, they were instead offered a solid gold toilet by Maurizio Cattelan, a satirical, if fully functioning sculpture called "America."
Thomas, who specializes in figurative paintings of cowboys, also made a Democratic presidents' version of the image.
In both the Republican and Democratic versions, there's a vague rendering of a woman in the background, a nod to a potential first female American president.
"Even in Trump's thrift store trash painting, a woman is coming to end the bullshit when they aren't paying any attention," read a comment by Twitter user Emily Colucci.
Others digitally altered images of other protagonists like North Korean leader Kim Jong Un, Trump supporter and rapper Kanye West or Russian President Vladimir Putin onto some of the other presidents' heads.
Thomas said Trump gave him some positive feedback about the painting.
"He basically said, 'Most portraits of me I really don't like,'" Thomas told Time magazine.
"And he's right. He's hard to paint. There's some bad ones out there."