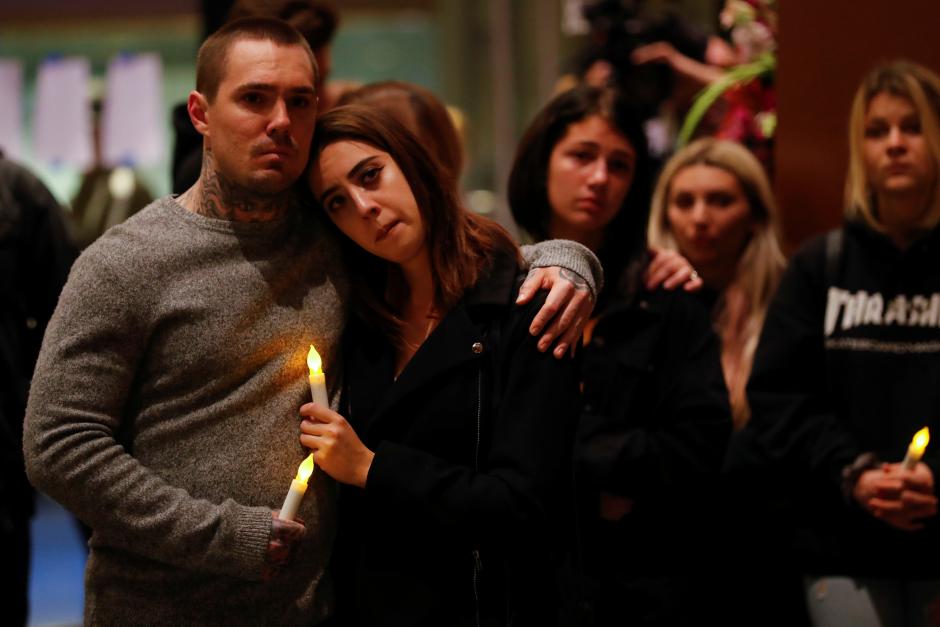 US President Donald Trump said on Friday the gunman who killed 12 people in a crowded South California bar this week was a "very, very sick guy," as investigators tried to determine what could have motivated the 28-year-old Marine combat veteran.
Even as Thousand Oaks, a suburb 40 miles (64 km) northwest of downtown Los Angeles, mourned the dead, the city faced a fresh threat on Friday as wildfires raged in the area, forcing thousands of people from their homes.
Victims of Wednesday night's rampage in the city of Thousand Oaks included an 18-year-old freshman student at Pepperdine University, a security guard at the bar, a graduate of California Lutheran University and a Marine Corps veteran.
Ian David Long, who served with the Marines in Afghanistan, walked into the Borderline Bar and Grill, which was packed with dancing college students, and opened fire, fatally shooting 12 people before apparently killing himself, law enforcement officials said.
CNN reported that Long had written on Facebook around the time of the massacre: "I hope people call me insane … wouldn't that just be a big ball of irony?" He added, "Yeah.. I'm insane, but the only thing you people do after these shootings is 'hopes and prayers'.. and wonder why these keep happening."
Long's Facebook page appears to have since been deleted.
"He is a very sick puppy," Trump said of the gunman, speaking at the White House before leaving on a trip to Paris.
The FBI was seeking a motive for the country's latest mass shooting.
Ventura County Sheriff Geoff Dean told reporters on Thursday that Long may have suffered from PTSD.
"He was a Marine, he was in the war, he served time, he saw some pretty bad things," Trump said. "And a lot of people say he had PTSD and it's a tough deal."
Richard Berge, who lived near Long and looked after his mother's dogs, told Reuters she had told him earlier this year she worried her son might take his own life but did not fear he would hurt her.
The Thousand Oaks massacre took place less than two weeks after a man shot dead 11 worshippers at a Pittsburgh synagogue, fueling the debate over gun ownership in America.
One of the dead, Telemachus Orfanos, had survived the mass shooting at a country music concert in October 2017 in Las Vegas that killed 58 people, the worst such incident in modern U.S. history, ABC News said, citing a friend.
It was time for politicians to act, Orfanos' mother, Susan Schmidt-Orfanos, told ABC News.
"I don't want prayers. I don't want thoughts," she said. "I want gun control and I hope to God nobody else sends me any more prayers."
The shooting came a day after the election of a Democratic governor who has pushed for tighter gun control in a state that already has some of the strictest firearms laws in the country.
'Still reeling'
The wildfire that started on Thursday has destroyed some homes on the outskirts of Thousand Oaks and forced the mandatory evacuations of 75,000 people, as well as closing some highways. A large plume of smoke grew on the horizon to the northeast of the city on Friday.
Andrea Campbell Conant, a public relations executive who grew up in Thousand Oaks, said even as she drove to one of the vigils for the 12 people killed on Wednesday night roads had begun to close.
"It's almost like we haven't had enough time to process how we feel," she said in a telephone interview as she described a head-spinning shift from a tear-filled vigil to her and her friends getting calls from relatives who needed help after getting evacuation orders.
Although mass shootings have become commonplace in modern American life, Wednesday's carnage still came as a shock to the 127,000 residents of Thousand Oaks, which was named the third safest city in the United States for 2018 by the Niche research company.
Heather Wynalda, 47, in Conejo Valley, a few miles west of Thousand Oaks, said her brother's home had burned but he and his family were safe.
"It's just devastating," she said via Facebook messenger. "This community pulled together so beautifully in the midst of yesterday's shooting … and today, it is being frantically scattered in an effort to escape the fires."
Evacuation centers have been set up in Thousand Oaks, including a teen center where frantic parents awaited news of their children after Wednesday's shooting.
Pepperdine University, which held a prayer service in Malibu following the shooting, said Friday it was closing its Malibu and Calabasas campuses due to the wildfires.
Additional reporting by Roberta Rampton in Washington, Bernie Woodall in Ft. Lauderdale, Florida, Dana Feldman in Marina del Rey, California, and Brendan O'Brien in Milwaukee; Writing by Nick Carey; Editing by Frances Kerry, Bill Tarrant and Tom Brown