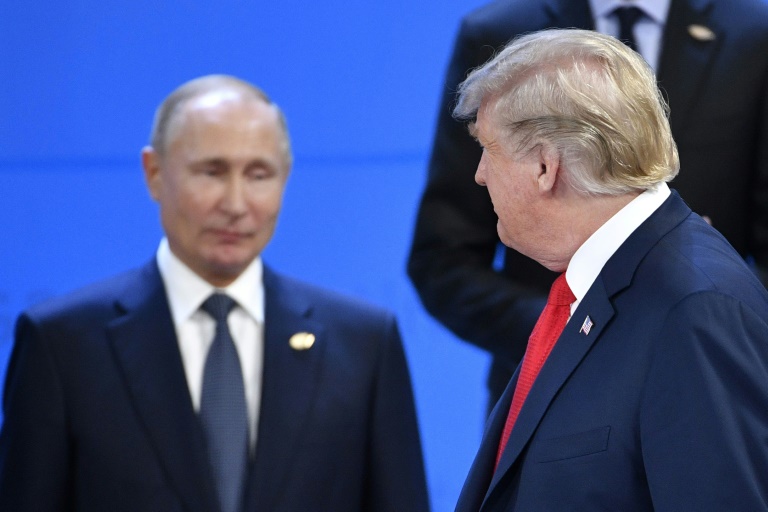 US President Donald Trump went out of his way Friday to dodge President Vladimir Putin at the G20 summit in Buenos Aires, but still couldn't shake the growing Russia collusion scandal back home.
Trump was meant to hold a one-on-one meeting with the Kremlin leader Friday, followed by an expanded session with their delegations.
But during the flight to Argentina on Thursday for the two-day talks, Trump abruptly cancelled, saying this was due to Washington's anger at a Russian navy assault on Ukrainian ships last weekend.
Once at the summit venue, it became impossible to avoid Putin altogether, because the group's 20 leaders were having lunch, as well as other joint activities. But when gathering for the traditional "family photo," Trump walked past the Russian president without stopping.
Asked later if he would exchange pleasantries with Putin, Trump said: "Not particularly. I don't know."
Many were not convinced, asking whether Trump's snub of Putin was more due to growing discomfort over the probe into his allegedly improper contacts with Moscow than outrage over Ukraine.
This prompted Trump spokeswoman Sarah Sanders to reiterate on Friday that the president's only reasoning for the dramatic schedule change was Ukraine.
However, Sanders also lashed out at the collusion probe, which she branded "the Russian Witch Hunt Hoax," and said the controversy "probably does undermine our relationship with Russia."
Moscow business deal probed
The huge investigation by Special Counsel Robert Mueller into whether the Trump 2016 election campaign — or Trump himself — colluded with Russian agents appears to be accelerating in Washington.
Trump has always said there is no proof to back accusations about meetings between his campaign and shadowy Russians, hacked emails, or even an alleged Russian blackmail dossier.
However, Mueller is probing ever deeper into Trump's inner circle during the campaign.
And on Thursday — just hours before cancellation of the Putin meeting — the probe shot into sensitive new territory with a guilty plea from Michael Cohen, Trump's former personal lawyer.
This brought prosecutors right into Trump's secretive business empire and specifically his exploration of a deal for a Trump Tower in Moscow close to the time that he was seeking the presidency.
In his surprise guilty plea, Cohen admitted lying to Congress about Trump's proposed — but ultimately shelved — plan for the tower.
Cohen, who once said he would take a bullet for the Republican billionaire, but who has now turned into a star witness for prosecutors, said he lied when he testified that Trump's project was dropped in January 2016, well before Trump was the official Republican candidate.
In fact, Cohen now says, the project was discussed multiple times within the company beyond January 2016. Efforts to obtain Russian governmental approval were still being discussed as late as June of that year, he said.
Cohen also mulled traveling to Russia in connection with the project and in May 2016 was offered a possible introduction to either the Russian president or prime minister on the sidelines of a Russian forum in June 2016, he said.
Trump ultimately secured the Republican nomination for president just weeks later, in July 2016.
On Friday, before launching into the G20 diplomatic schedule, Trump fired off two tweets angrily denying that he improperly mixed his business and political ambitions — something that critics claim could have put the US leader under the Kremlin's influence.
"Oh, I get it! I am a very good developer, happily living my life, when I see our Country going in the wrong direction (to put it mildly)," Trump tweeted Friday.
"Against all odds, I decide to run for President & continue to run my business-very legal & very cool, talked about it on the campaign trail," he said.
"Lightly looked at doing a building somewhere in Russia," the Republican leader continued. "Put up zero money, zero guarantees and didn't do the project. Witch Hunt!"
Before leaving for the G20, Trump called Cohen "weak" and said "he is lying about a project that everybody knew about."