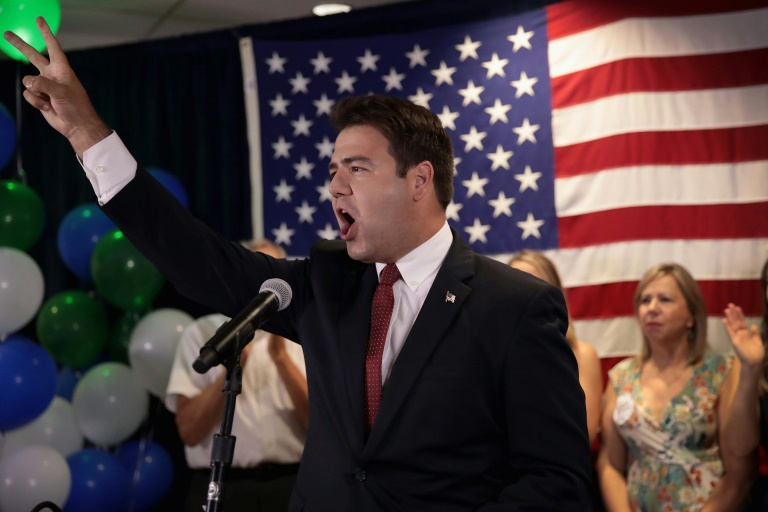 The weaknesses of the US Republican Party heading into November's midterm elections were laid bare Wednesday as a special House election featuring a candidate endorsed by President Donald Trump remained unresolved — a contest that also underscored Democratic momentum.
Trump proclaimed victory for Republican state senator Troy Balderson in Tuesday's race in Ohio for a seat in the House of Representatives, despite it remaining too close to call.
Even if Balderson is eventually declared the winner in Ohio's 12th district, the fact that Democrats were competitive in the solidly red region was the latest example of amped up grassroots energy in the opposition camp.
And it further exposed Republican peril — already on broad display — just three months before the elections that will determine whether the GOP can maintain control of Congress.
The Ohio race carries powerful implications, as it is the final direct face-off between Republicans and Democrats before the midterms.
Trump, who made an 11th-hour campaign stop for Balderson, looked to past victories to boost his argument that Republicans were not in trouble.
"The Republicans have now won 8 out of 9 House Seats" in special elections since his inauguration in January 2017, the president tweeted.
"Yet if you listen to the Fake News Media you would think we are being clobbered."
The signs are nevertheless ominous for the GOP.
In many of the races mentioned by Trump, the Republicans underperformed, only narrowly winning elections that should not have been remotely close.
In Tuesday's contest, Balderson was ahead of Democrat Danny O'Connor by just 1,754 votes, with thousands of provisional and absentee ballots outstanding.
The margin, less than one percent, comes in an affluent district that is 88 percent white, and which Republicans have held for 35 years. Trump beat Hillary Clinton there by some 11 points in 2016.
But with the midterm races being seen as a referendum on the president, opposition momentum in Trump country is becoming undeniable.
"Democrats' morale was the big winner last night," tweeted congressman Keith Ellison, the deputy chairman of the Democratic National Committee.
Several key Republicans have agreed with that sentiment, including Ohio Governor John Kasich, who said it was "shocking" that the special election was so close.
"It's clear the energy and intensity is on the Democratic side" nationally, said moderate former Republican congressman Charlie Dent.
Democratic "intensity"
The Ohio race also laid bare a critical dimension that could have dramatic implications in November: turnout in the district's fast-growing suburbs was an impressive 42 percent, while in the more rural, lightly populated counties — the base of Trump support — turnout ranged from 27 to 32 percent.
Another danger sign for Trump's party: there are more than 60 Republican-held congressional districts that are rated as more competitive than the 12th in Ohio.
Democrats need to flip 23 seats nationally to reclaim the 435-seat House, and they are looking for a "blue wave" to get them over the top.
Trump is worried that losing the House, and potentially the Senate, could hurt his ability to advance his agenda — and expose him to Democratic efforts to oust him from power.
But he remained insistent that candidates benefit from his endorsement.
"As long as I campaign and/or support Senate and House candidates (within reason), they will win!" Trump tweeted.
In recent weeks, he has made several campaign appearances seeking to boost his picks ahead of state primaries.
But in Kansas, a controversial Trump-endorsed candidate, Kris Kobach, was locked in a race for governor. After Tuesday's primary, which pitted Kobach against the Republican incumbent, the race remained undecided, with Kobach ahead by just 191 votes.
Back in Ohio, O'Connor, who has not conceded and stressed he will run again in November regardless of the outcome, scoffed at Trump's claim to have had an outsize impact on his race.
"I don't think he knows what he's talking about," O'Connor told CNN.
The party in the White House traditionally loses seats in midterm elections.
And Democrats believe mounting voter frustration with Trump is tilting the political playing field further in their favor.
But there were mixed messages Wednesday, when RealClearPolitics put the generic ballot — a poll of whether Americans will vote for Democrats or Republicans for Congress — in favor of Democrats by 5.7 percentage points, down from the 6.1 recorded on Friday.
Tuesday's round of primaries in Kansas, Michigan, Missouri and Washington also put Republicans on notice that women could play a determining factor in the midterms.
A record number of women, 183, will now be running for US House seats in November, a surge that follows a year marked by the #MeToo movement and defiance of Trump.