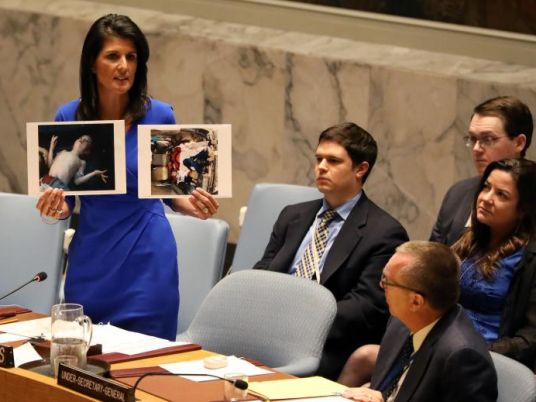 A spokesman for United Nations Secretary-General Antonio Guterres said the proposed US budget cuts to the UN would make it "simply impossible" for the international organization to continue humanitarian work.
"From where we stand, looking at the budget as it is proposed now would make it simply impossible for the UN to continue its work advancing peace, development, human rights and humanitarian assistance around the world," said spokesman Stephane Dujarric.
The US is the largest contributor to the UN's budget, supplying 25 percent of the UN's $5.4 billion regular operating budget and 28.5 percent of its separate $7.8 billion peacekeeping budget. US President Donald Trump wants to cap the US peacekeeping contribution at 25 percent.
The budget for the US fiscal year, which starts on October 1, was released earlier this week. It proposed cutting about 33 percent from US diplomacy and aid budgets or nearly $19 billion (17 billion euros). It stated the US would cut funding for UN peacekeeping by about $1 billion or 50 percent. The US would also decrease its contributions to other international organizations, including the UN's children's agency UNICEF and the UN population agency UNFPA.
Reforming the UN
US ambassador to the UN Nikki Haley said in a statement Tuesday that the US budget "reflected the reality that resources are not unlimited." Haley, as well as Trump, have pushed for reforming the UN, particularly its 16 peacekeeping operations.
The spokesman for Secretary-General Guterres said that he "has been very vocal on the need to reform and is engaged – and is committed and will continue to work on reform ensuring the UN…delivers what it is meant to deliver."
The $7.8 billion peacekeeping budget covers the 16 missions, a regional center, logistics base and deployment of over 113,000 personnel. Three of those missions (Democratic Republic of Congo, South Sudan, and Darfur, Sudan) cost more than $1 billion each. The UN will soon suspend three of those missions, which take place in Haiti, Ivory Coast and Liberia.
Atul Khare, the UN undersecretary-general for peacekeeping support, said that when adjusting for inflation, "the cost of UN peacekeeping to member states today is 17 percent lower in 2016-17 than it was in 2008-9 when measured as cost per capita of deployed uniformed personnel."
Some of the peacekeeping missions have been severely criticized. The mission in Haiti was accused of not doing enough to stop the spread of cholera following the devastating earthquake in 2010, and some of the peacekeepers allegedly ran a sex ring.