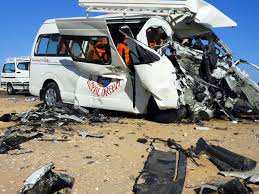 15 people were killed and one man injured Sunday in a head-on collision between a microbus and a truck loaded with bricks on the Cairo-Aswan Eastern Desert Road, near Beni Suef governorate.
A microbus headed from Assiut to Cairo collided with the rear of the truck due to excessive speed by the microbus driver, police General Mamdouh Abu Zeid said, a director of the criminal investigations department.
All victims live in Assiut governorate, according to Dr Abdel Nasser Hamida. He added that 10 victims were taken to Beni Suef Public Hospital while another six were sent to Nasser Central Hospital.
The injured man, a 25-year-old, was taken to a surgical operations room, suffering from a broken skull, Dr Hamida added.
A report by the Central Agency for Public Mobilization and Statistics (CAPMAS) indicated a rise in car accidents in Egypt by 1.1% in 2016 compared to 2015, with 14,710 accidents taking place last year.
The number of victims of car accidents reached 5,343 people killed, while 18,646 were injured and 21,089 vehicles were damaged.