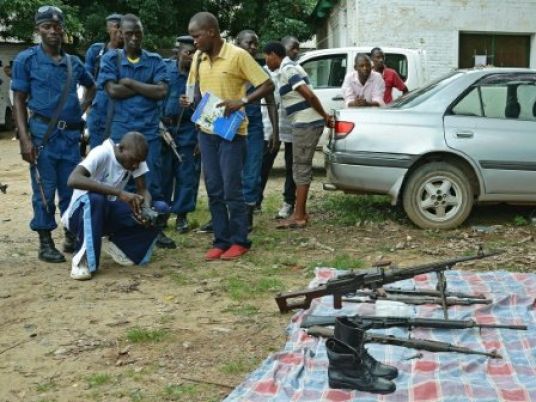 African leaders meet Saturday in a bid to end armed crises, including in troubled Burundi, with an unprecedented vote on deploying a 5,000-strong peacekeeping force despite Burundi's vehement opposition.
While the official theme of the African Union (AU) meeting is human rights, leaders will once again have to deal with a string of crises across the continent when they open two days of talks at the organisation's headquarters in the Ethiopian capital.
Talks at the AU Peace and Security Council, attended by presidents and foreign ministers from across the 54-member bloc as well as UN Secretary-General Ban Ki-moon, stretched late into Friday night in a bid to narrow positions before the opening of the formal summit.
AU Peace and Security Council chief Smail Chergui warned "the stakes are indeed high", but Burundi remained defiant in its opposition to a mission it calls an "invasion force".
Burundian Foreign Minster Alain Nyamitwe insisted he had the backing of other nations. Asked whether he had support of others in opposing the proposed force, Nyamitwe said, "Yes, very strong, you will see."
Street protests, a failed coup and now a simmering rebellion began when Burundi's President Pierre Nkurunziza announced his intention to run for a controversial third term, which he went on to win in July elections.
Hundreds have died and at least 230,000 have fled the country in the months since.
"We have said that the deployment of this force is not justified," Nyamitwe said. "We believe that the situation in the country is under control."
Chad's Deby new AU president?
With Nkurunziza unmoved by AU and UN appeals, there have already been moves to water down the proposed military force to that of an observer mission.
"It is not only Burundi that is resisting this idea… most interveners in a country are not welcomed," Gambian President Yahya Jammeh said.
Jammeh said he would not support a military deployment "without the consent of Burundi".
A two-thirds majority will be required to send the force, named the African Prevention and Protection Mission in Burundi (MAPROBU). It remains unclear who would be willing to contribute troops.
The AU charter's Article 4h gives the pan-African bloc the right to intervene in a fellow nation state, "in respect of grave circumstances" including war crimes, genocide and crimes against humanity."
"In addition to Burundi's lobbying efforts, many heads of states will be reluctant to set a precedent of AU troop deployment in a country that clearly rejects it," said Yolande Bouka, of the Institute for Security Studies (ISS) think tank.
The two-day summit, the first since leaders last met in Johannesburg in June 2015, will also aim to tackle conflicts across the continent and is expected to open around 11:00 am (0800 GMT).
The summit will see the annual election of a new AU chairman to replace Zimbabwe's President Robert Mugabe in the ceremonial role.
Diplomatic sources suggest Chadian President Idriss Deby could be nominated for the one-year presidency which rotates between different regions of the continent, with this year being Central Africa's turn.
Discussions are also expected to include stalled talks to end war in South Sudan.
Neither Burundi's Nkurunziza nor South Sudan President Salva Kiir are expected to attend the summit.
Nhial Deng Nhial, South Sudan's government negotiator in peace talks, dismissed concerns that negotiations were deadlocked, with violence ongoing and fears of potential famine.
"As far as we're concerned, the implementation of the peace process still remains on track," Nhial said, despite a string of missed deadlines.
The conflict now involves multiple militia forces who pay little heed to paper peace deals and are driven by local agendas or revenge attacks.
Islamist insurgencies in Mali and Nigeria, violence and political instability in Libya and the formation of a new government in Central African Republic will be the other issues on the agenda.