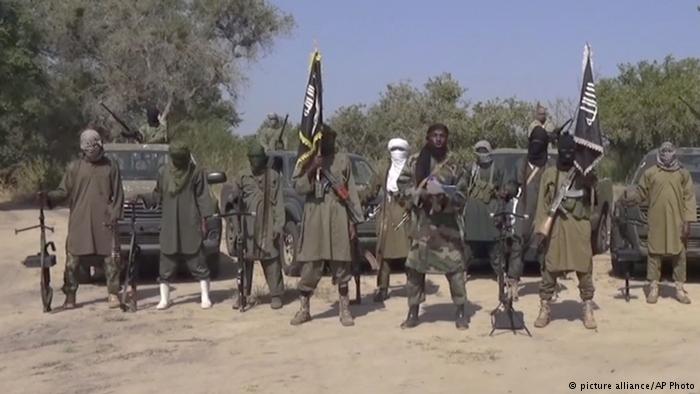 Mohammed Tola was surprised when relatives of a number of accused Boko Haram fighters began calling his office a few months ago to ask him to defend the accused in court. Tola's legal offices, situated in the center of Abuja, the capital of Nigeria, is specialized in criminal law. But he and his colleagues have had little experience with terrorism trials to date.
Boko Haram is one of the deadliest terror organizations in Africa. Over the last few years more than 50,000 Nigerians have died in their government's conflict with the Islamist militia. Nevertheless, the lawyer was immediately prepared to take on the task. He says that everyone, even suspected terrorists, have the right to a fair trial. "If public opinion was the only thing that mattered, we would never have fair trials," says Tola.
Nigerian soldiers patrol near the Nigerian border in an area where the army has been battling Boko Haram militants
Overburdened judges
This Monday, some 1,600 suspected Boko Haram members are to go on trial — and each one is to be tried individually. The trials are to take place in the detention center where the accused have been held since their arrests. However, the criminal proceedings have faced criticism before even getting underway. Even Nigerian Minister for Justice Abubakar Malami in a statement made several weeks ago voiced concern about the utter lack of evidence against many of the accused, adding that there is "hardly any qualified personnel available to work through the complex cases before the court."
Nigerian legal expert Mainasara Umar sees three major problems that he says are cause for skepticism. "Four judges have been appointed to hear cases. That is far too few. Furthermore, plaintiffs and witnesses must be afforded better protection. But the most important thing is that cooperation between investigators and prosecutors must function perfectly."
Lawyer Tola fears another problem altogether: The lack of evidence means that investigators will largely have to rely upon defendants' confessions. He knows from experience that violence is often employed in such instances in order to get the accused to talk. "I have had cases in which there were blood stains on signed confessions. Torture was clearly used to get people to sign." He assumes that violent methods are used in about 80 percent of all confessions in Nigeria. And he says that can quickly lead to the wrongful conviction of innocent people — especially when pressure from public opinion mounts.
Boko Haram infamously abducted 276 of Chibok girls in Nigeria. Upon their release three years later, the Nigerian president welcomed them home (above).
Calls for a special court
The dimensions of this pending legal marathon against suspected terrorists have no precedent in Nigeria. So far, just 13 trials against Boko Haram members have been completed, only nine of which ended in convictions. Add to that 33 cases that are still ongoing — some for years now. Attorney Tola is preparing for lengthy trial. "I just spoke with a colleague who represents clients accused of having carried out a terror attack in the capital." He says the trial has been dragging on for three years due to the poor body of evidence that has been gathered against the defendants. "And there is no end in sight."
Legal expert Umar is convinced that the Nigerian government must better prepare the courts involved if it is to avoid a legal disaster in the forthcoming 1,600 trials. "I think it would be better if the government appointed a special court to handle the matter." The court, he says, would have to be given sufficient personnel and funding, and be tasked with hearing all terrorism cases — from armed rebellion to kidnapping. Umar says that is the only way to guarantee that trials can be completed in a timely fashion. As he puts it, "Ultimately, justice delayed is justice denied."