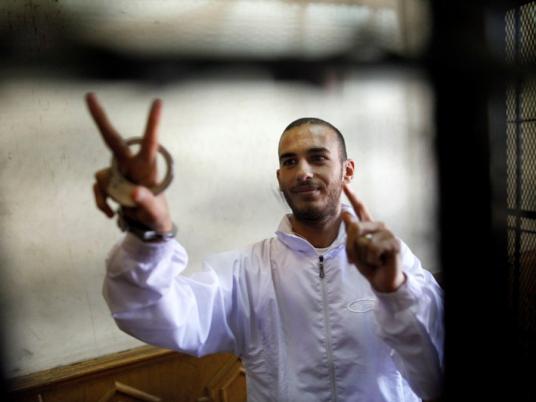 The controversial trial of Alber Saber on charges of insulting religion resumed on Wednesday at the New Cairo Court.
Saber, a 27-year-old computer programming student from Cairo was arrested in September when a mob accusing him of ripping up the Quran and publishing anti-Islamic content online surrounded his house.
When his mother Kariman Meseeha called the police, Saber himself was arrested.
Saber has been charged under Article 98(w) of the Egyptian Penal Code. This article, criticized by rights lawyers as unconstitutional, criminalizes the "use" of religion to "promote extremist thoughts with the intention of creating dissent or insulting a Abrahamic religion" or "undermining national unity."
Article 98(w) lays down a maximum prison sentence of five years. Any custodial sentence handed down to Saber could however be increased by another three years under article 160 of the Penal Code, which also deals with religious crimes.
Saber appeared defiant during his court appearance. He was rushed through a crowd into the courtroom by policemen and embraced by his mother who was wearing a black "Free Alber" T-shirt.
Once in the dock, Saber gave victory salutes and held up a piece of paper condemning "confessional courts." He also shouted "down with confessional courts" when the judge appeared and began trial proceedings.
Lawyers from eight human rights organizations form Saber's defense team. They requested that the court give them access to the report detailing the items found in Saber's home during a police search and that the two police officers who undertook this search give testimony in court.
They also requested that a copy of the forensic medical report detailing a physical attack on Saber while he was in custody at the Marg police station be made available to them.
During a press conference at human rights organization the Egyptian Initiative for Personal Rights (EIPR) on Tuesday, Meseeha said that other detainees physically attacked her son in the Marg police station after a police officer, Mina Shenouda, told them that Saber had ripped up a copy of the Quran.
Lawyers say that during prosecution office questioning Saber appeared covered in blood with a cut injury to his neck. EIPR lawyer Adel Ramadan told Egypt Independent that they are seeking to have Saber's statements during the prosecution office questioning withdrawn from evidence because they were made under the threat of physical abuse that Saber could potentially once again suffer when he was returned to the police station.
Ramadan noted, however, that even if this were to happen, it may not affect the outcome because an integral element of the charges under Article 98(w) is that the "extremist ideas" in question have been promoted, either verbally or in writing.
Saber has appeared in videos published online discussing Islam. Meseeha says that his Facebook account was hacked in 2010 and that her son is not responsible for content published on it.
During his appearance before the public prosecution office, Ramadan says that Saber was questioned about his religious affiliation and his views on religion generally.
Amnesty International describes Saber as a prisoner of conscience. The public prosecution office charge sheet against him states that Saber both "insulted God and cast doubt on the books of the Abrahamic religions" and "denied the existence of God and his creation of mankind." Saber is also alleged to have doubted the validity of some verses of the Quran and the Bible.
In its statement to the court during the first trial session, the public prosecution stated that "there is a difference between freedom of opinion and freedom of belief because the latter is constrained by the obligation not to [defame] the creator, his sacred creations or rituals."
Mahmoud Refat, a lawyer, appeared in court claiming civil damages for "emotional injury" caused by Saber.
"I am here as a Muslim lawyer defending Islam and Sharia. But I am also defending Christianity, because Alber Saber insulted God," Refat said.
Refat rejected suggestions that the charges against Saber represent an attack on freedom of opinion.
"Under American law they accept what Alber is saying as freedom of belief. But we don't have that in Islamic societies," Refat said, adding that Saber had posted anti-Islamic content online in order that a case against him would be raised and that he would be able to seek asylum in the United States.
The case resumes on 14 November.