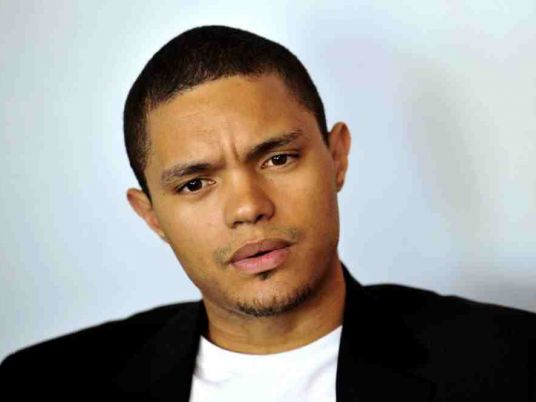 Trevor Noah, the newly announced host of "The Daily Show," rejected the backlash over his graphic tweets targeting Jews and women as an unfair reflection of him and his comedy.
"To reduce my views to a handful of jokes that didn't land is not a true reflection of my character, nor my evolution as a comedian," Noah posted Tuesday on his Twitter account, the same one that included past tweets others deemed offensive.
Comedy Central also came to his defense, calling Noah a "provocative" comedian who "spares no one, himself included."
"To judge him or his comedy based on a handful of jokes is unfair," the network said in a statement, adding that he has "a bright future at Comedy Central."
Noah was announced as Jon Stewart's successor Monday. The next day, he was a trending topic on Twitter as he drew fire for jokes described as tasteless, hateful – and unfunny.
Roseanne Barr was among those calling out the 31-year-old South African comic, who has an international following and 2 million Twitter followers.
"U should cease sexist & anti semitic `humor' about jewish women & Israel," she tweeted late Monday.
Noah's controversial tweets were posted between 2009 and 2014.
In 2009 he wrote: "Almost bumped a Jewish kid crossing the road. He didn't look b4 crossing but I still would hav felt so bad in my german car!"
A 2012 post derides "jewish chicks." Another one from 2011 jokes about "a hot white woman."
In a post from 2011, he writes: "Oh yeah the weekend. People are gonna get drunk & think that I'm sexy!" He attributes the joke to "fat chicks everywhere."
He also slammed the United States' midsection in a 2013 tweet, writing that "When flying over the middle of America the turbulence is so bad. It's like all the ignorance is rising through the air."
The tweets showed a different side to Noah than the picture painted by Comedy Central and the comedian himself just a day earlier: In a phone interview Monday from Dubai, where Noah was traveling on a comedy tour, he likened himself to the New York-born Stewart, saying, "One thing we both share: We are both progressives." He added, "traveling the world I've learned that progressives, regardless of their locations, think in a global space."
Noah, the son of a black South African mother and white European father who speaks six languages, was being pitched by Comedy Central as reflecting a new age of global multiculturalism, "a citizen of the world," in the words of Michele Ganeless, the network's president.
He was named a little more than a month after Stewart unexpectedly announced he was leaving "The Daily Show" following 16 years as the show's principal voice. Although no dates have been disclosed, Stewart is expected to depart by the end of the year, with Noah taking over soon afterward.
On Monday, Ganeless spoke of the advantage of introducing Noah to a mainstream U.S. audience through "The Daily Show," with viewers coming to the show he hosts with no preconceptions. "They will get to discover him, and form their opinions of him, as they watch him host."
But by Tuesday, some opinions were already forming. Weighing in on Noah's selection, a Slate column compared his vetting to that of Sarah Palin as a running mate for presidential candidate John McCain.
The choice of a new host for "The Daily Show" is a critical decision not only for the satirical-news program, but for the network, whose identity has largely been forged by the "Daily Show" franchise, which for years was followed by the likewise signature "The Colbert Report."
By the end of this year, Comedy Central will have completely remade this programming block. In January, African-American comic Larry Wilmore replaced the "The Colbert Report" hosting "The Nightly Show."