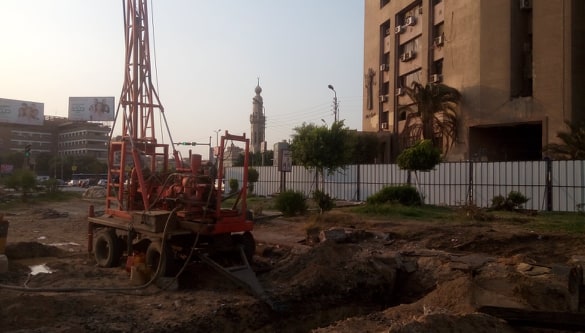 As part of Cairo urban planning, a new bridge is set to be constructed in Heliopolis to facilitate roadway mobility and reduce traffic congestion during rush hour. The bridge will be built at the cost of the district's greenest street, Abu Bakr al-Siddiq.
On August 3, a banner was installed on Abu Bakr Street to announce the immediate construction of the new roadway. The new bridge is part of a joint development plan by the Ministry of Defence and Rowad Modern Engineering.
The bridge is set to pass over Safir Square, joining Othman ibn Affan with Abu Bakr Street.
Some Heliopolis inhabitants–especially those whose homes surround the construction site–resent the decision to build the bridge.
The new bridge comes at the expense of natural landscapes. An estimated 550 trees will be uprooted along Abu Bakr Street, reports Michel Hanna on the Heliopolis Facebook page. The page shares stories about the Heliopolis community, including the various problems the district encounters.
According to Hanna, a Heliopolis resident, building the bridge means demolishing Abu Bakr and the entire district of Heliopolis.
Many residents have expressed concern that the bridge over Safir, which also passes over the residential buildings underneath, is an invasion of privacy.
The demolition of the greenest area of Heliopolis even reminds some residents of the Aghakhan crisis. In Aghakhan, a district of Shubra, greenery was also uprooted so that a bridge could be built, as mentioned on the Heliopolis Facebook Page. The bridge destroyed the beauty of the place as microbuses spread across and parked underneath the passage.
Similar projects have been implemented this year in Heliopolis without prior warnings granted to residents, including a construction bridge passing over El Saba'a Omarat (The Seven Buildings) in el Nozha area.
Abu Bakr Street has a long history predating the 1919 Revolution. It was built alongside the Heliopolis Aerodrome between 1909 and 1910. Aerodrome activities were suspended because of World War I, and the site was later transformed into the renowned Almaza airport.
New developments in Abu Bakr emerged in the 1940s with the establishment of a central island (al-Gezira al-Wosta) and the planting of Abu Bakr street along with the extension of the Almatira metro line onto the central island.
According to a report conducted by the United Nations Environment Program in 2017, almost 40,000 people in various locations across Egypt died the same year because of pollution. A contributor to this pollution is the absence of greenery in Cairo, which intensifies air pollution.