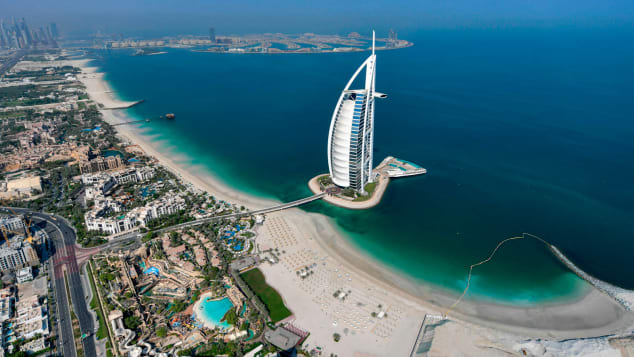 If you're planning to travel to Dubai, here's what you'll need to know and expect if you want to visit during the Covid-19 pandemic.
The basics
Dubai reopened to visitors from August 1, though all arrivals must have valid health insurance and a negative Covid test.
What's on offer
Sun, shopping and some of the world's best hotels — people come to Dubai to get away from it all. From incredible modern architecture to glossy beaches and high-end restaurants and hotels, this is a stylish blend of a city and beach break.
Who can go
Anyone normally permitted entry to Dubai can visit, even on vacation.
What are the restrictions?
The UAE has opened up quarantine-free travel corridors for the fully vaccinated with the Seychelles, Bahrain, Serbia, Italy and Greece. The Maldives Ambassador to the UAE said at the Arabian Travel Market that his country is also in discussions.
For everyone else (other than India — see restrictions below), all visitors over the age of 12 must have medical insurance and a negative PCR test completed within the past 72 hours by a nationally recognized body.
You must show the certificate at check-in, complete a health declaration form before travel, and register on the COVID-19 DXB app. You must also have travel insurance.
Passengers arriving from Saudi Arabia, Kuwait, Bahrain, and Oman can opt to take the test on arrival in Dubai, if arriving by air.
Visitors from more than 50 countries, including Argentina, Ghana and Morocco, must take an additional test on arrival. A full list is here.
Regular India-UAE flights are suspended until at least July 6, but there has reportedly been an upswing in chartered flights. When the suspension has ended, passengers traveling from India to Dubai must present a negative RT PCR test taken not more than 48 hours before departure. Results will only be accepted from authorized labs that generate a QR code linked to the original report.
Some airlines also require these QR codes for passengers traveling from Egypt and Ethiopia, so please check with your airline before traveling.
Other temporary suspensions mean that passengers are currently refused entry into Dubai from South Africa, Nigeria, Bangladesh, Pakistan, Nepal and Sri Lanka.
Anyone showing symptoms on arrival must quarantine for 14 days at their own expense, unless flying with Emirates, which will cover costs for its passengers.
The air border to neighboring Abu Dhabi reopened in December, though all arrivals other than those on the "green list" must currently isolate for 10 days. Abu Dhabi has announced that it will end mandatory quarantine for international travelers on July 1.
In January 2021, the UK placed the UAE on its travel "red list." This means only travelers resident in the UK can travel from the UAE to England, Wales, Scotland and Northern Ireland. They'll have to quarantine for 10 days upon arrival alongside all members of their household.
What's the Covid situation?
As of June 4, the UAE has recorded 1,710 deaths related to Covid-19. The UAE's vaccination roll-out has been the twelfth most efficient in the world, with 39.27% of its population fully vaccinated so far.
What can visitors expect?
Mask-wearing is compulsory, as is keeping a two-meter social distance. Outside, you must wear a mask unless exercising, eating or drinking, in a car with your family or if you're alone.
Hotels are now allowed to be fully occupied and live entertainment and activities is permitted in restaurants, cafés and shopping malls.
Useful links