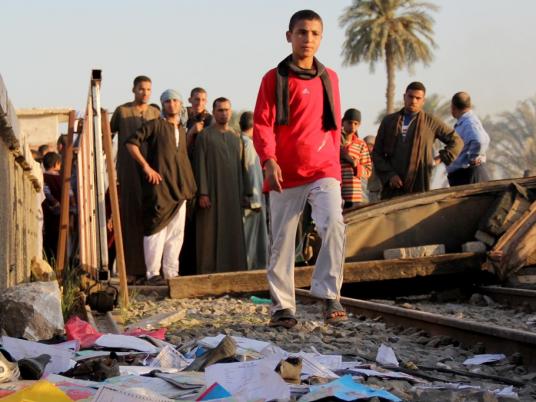 A train-bus collision occurred  at the al-Sadr crossing, in the Husseiniya area of ​​Zagazig city, causeing the injury of 27 people.
Mamdouh Ghorab, Governor of Sharqiya, confirmed that traces of the accident have been removed, and the road is now accessible to cars and pedestrians
Zagazig mayor, Nabil Farouk, explained that he coordinated with the Rapid Intervention Unit at the General Court, and the bus was removed from the railway track immediately.
He also listed with the Traffic Department to organize traffic in the area.
As it is a very prominent road and the main entry point for travelers from Zagazig to the governorates of Greater Cairo and Tenth of Ramadan City.
According to Hisham Massoud, Undersecretary of the Ministry of Health the train that collided with the back of a bus belongs to a private university.
Twenty-five ambulances were dispatched to the scene of the accident, and the 17 injured were transferred to Zagazig University Hospital, and the remainder to Al-Ahrar Educational Hospital.
The governor instructed Massoud to follow and investigate on the cases of the injured, and to ensure that all of their health needs and treatment is   provided adequately.