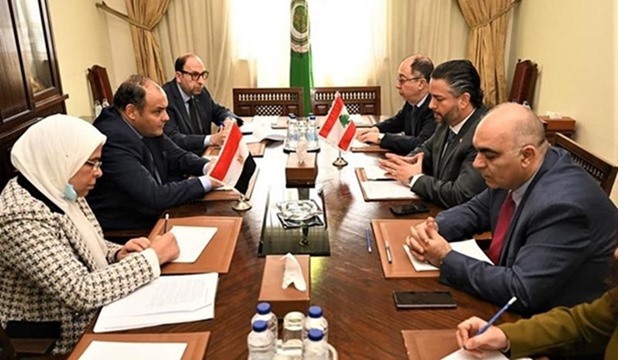 Minister of Trade and Industry Ahmed Samir held tete-a-tete meetings with a number of ministers participating in the 111th session of the Arab League Economic and Social Council (ESC) held at the ministerial level at the Arab League premises.
During his meeting with Iraqi Economy and Trade Minister Atheer Al-Ghurairy, Samir asserted that Egypt and Iraq have been bound with strategic ties in all fields topped by the industrial, trade and investment ones, noting that Cairo was keen on enhancing the industrial integration between the two countries so as to achieve food and pharmaceutical security for both sides.
He also underlined the importance of buttressing partnership among the private sectors of both countries as well as coordinating stances to activate the joint Egyptian-Iraqi Business Council in a way that could contribute to meeting the needs of the Iraqi market from Egyptian products.
The Iraqi minister, for his part, affirmed that the Iraqi market is a golden opportunity for investment in the trade and industrial fields, noting that Baghdad was deeply interested in getting briefed on the unique Egyptian expertise in the industrial and agricultural fields.
Samir also conferred with Lebanese Economy Minister Amin Salam on means of promoting the level of economic cooperation between the two countries and building on the sisterly relations binding the two countries through establishing joint projects that serve the interests of the two peoples.
The two sides also probed means of easing the movement of trade exchange between the two countries as they agreed on sustaining contacts to remove any hardships facing the trade movement between them.
Samir, for his part, assigned the ministry officials to follow up with the Lebanese Embassy in Cairo to settle any difficulties that face the flow of trade between the two countries.
The Lebanese minister also praised the pivotal role of Egypt in supporting the Lebanese people through coronavirus pandemic and Beirut harbor blast, noting that vast opportunities for trade and economic cooperation are available in view of the agreement between the two sides.