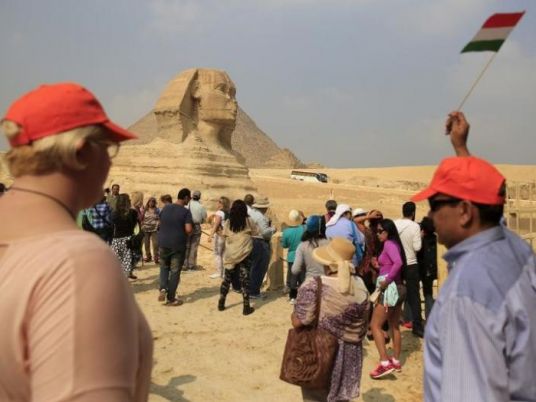 A recent report by the Arabian Travel Market (ATM) revealed that the yearly number of visitors to Egypt is expected to increase by 50 percent over the next three years from 1.49 million in 2018 to 2.23 million in 2022.
ATM is a leading international travel and tourism event in the Middle East that brings together tourism sector professionals from many nations. This year's edition will run in Dubai from April 28 until May 1. Last year's event successfully attracted nearly 40,000 tourism professionals.
The report expects that travelers coming from Europe to Egypt will be the major tourism boosters, leading a significant jump in the growth rate to 9.1 million tourists in 2022 from 6.2 million in 2018.
Another research conducted by Colliers International noted that arrivals from the Middle East would contribute to the highest Compound Annual Growth Rate (CAGR) at 11 percent.
"Over the last 12 months, Egypt's tourism industry has witnessed healthy and steady growth, with arrivals up 14.5 percent from 8.3 million in 2017 to 9.5 million in 2018. Growth has been fueled by the cheaper Egyptian Pound and government incentives for charter airlines operating international flights," Danielle Curtis, Exhibition Director ME, Arabian Travel Market, stated.
"We are witnessing this growth firsthand at ATM, with the total number of attendees coming from Egypt increasing 16 percent year-on-year," he added.
It is predicted that tourism capital investment numbers will increase by 25 percent between 2018 and 2022.
Colliers's research highlighted that the total tourism revenue will increase at a CAGR of 16.5 percent between 2018 and 2022.
"The overall revenue generated by the leisure segment in 2018 represented 87 percent of total tourism spending, and we expect this growth to continue as a series of new government and private sector attractions and investments are unveiled, including the development of new airports and new luxury hotel resorts in Red Sea destinations Sharm El Sheikh and Hurghada," Curtis mentioned.
The ATM's report stated that although the UK used to be a leading market for the Red Sea resort Sharm El Sheikh, it only recorded a 4 percent increase in arrivals between 2017 and 2018 due to the UK's flight ban.
The UK's suspension of flights to Sharm el-Sheikh continues, having been instituted after a bomb exploded on a Russian plane flying over Egypt's Sinai in 2015. The explosion killed all 224 people–mostly Russians–on board. However, many international companies recently resumed flights to various Egyptian destinations.
"It is hoped the recent resumption of Serbian flights to Sharm El Sheikh after a six-year absence and the introduction of Turkish Airlines daily flight from Moscow to the Red Sea via Instanbul will kick-start direct flights between the UK and Egypt," Curtis added.