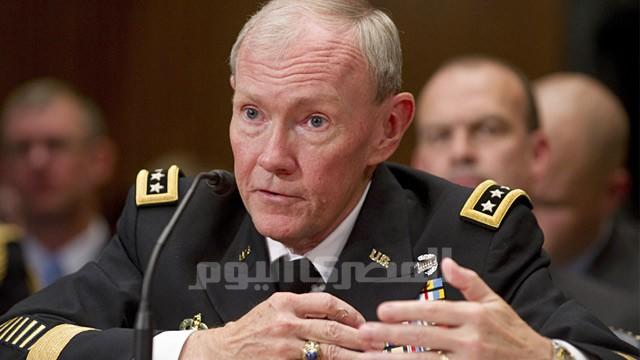 The top US military general asked Egyptian authorities during a visit to Cairo this month to allow American democracy activists facing trial to fly home with him, an Egyptian state newspaper reported on Saturday.
The chairman of the Joint Chiefs of Staff, General Martin Dempsey, met Egypt's military rulers amid an acrid row between the allies over Egypt's plans to try American and other activists for illicit foreign funding.
A number of the Americans charged have sought refuge in the US embassy in Cairo. Dozens of activists of various nationalities also face trial.
"It appears that General Dempsey urged Egyptian officials he met to release the accused Americans and allow them to leave the country, so they may be tried in absentia," the Al-Ahram report said.
"The next day, the American request was even more persistent, with Dempsey saying he wanted to accompany the Americans on his private plane," said the report by a senior editor of the government's flagship newspaper.
Al-Ahram reported that the officials who met Dempsey told him the case was a judicial matter and only a court could lift the travel ban on the suspects.
After the meetings, Dempsey's spokesperson had said the general brought up the charges against the 19 Americans, workers with NGOs accused of receiving illicit foreign funding, but refused to elaborate on the discussions.
The prime suspect in the case is Sam LaHood, the son of US Transportation Secretary Ray LaHood. He heads the Egyptian chapter of the International Republican Institute, one of the American NGOs implicated in the case.
Ray LaHood told US broadcaster CBS on Friday that "there are a lot of people in our government, really top officials in our government, working night and day to resolve this issue," according to CBS's website.
Activists say the crackdown on democracy advocacy NGOs is part of a campaign by the ruling military, which took charge after an uprising overthrew President Hosni Mubarak a year ago, to stamp out growing dissent against its rule.
US lawmakers from both parties have stepped up their warnings that Egypt's crackdown will force a review of the US$1.3 billion in US military aid to the longtime Middle Eastern ally if the crisis is not quickly resolved.