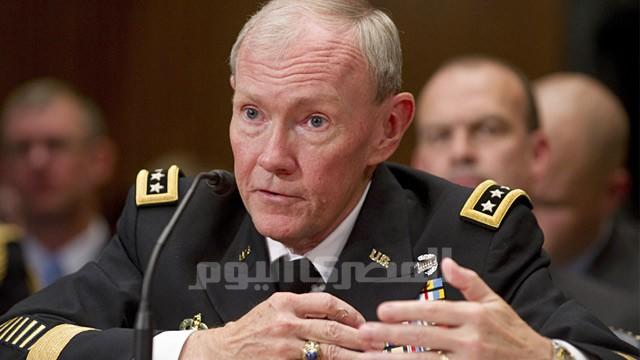 The US military's top general will visit Egypt Friday and meet with the head of the ruling military council to address Egypt's recent crackdown on NGOs over allegations of illegal foreign funding, as well as bilateral military cooperation and arms agreements between the two countries.
In addition to meeting with Supreme Council of the Armed Forces head Field Marshal Hussein Tantawi, Chairman of the Joint Chiefs of Staff General Martin Dempsey will meet with SCAF second-in-command Lieutenant General Sami Anan. The visit was scheduled a while ago, Dempsey's spokesman Colonel Dave Lapan said in a statement Wednesday.
Dempsey will discuss the options and repercussions of the NGO criminal case, including the recent threat from some American lawmakers that the investigation of the organizations and the prosecution of employees could cause the US to withhold over $1 billion in annual aid to Egypt.
Considering the US military's deep and longstanding ties to Egypt's top brass, American officials are hopeful Dempsey will be able to persuade Cairo to back off a planned trial of foreign NGO workers. Prosecutors on Monday announced that they plan to put 43 NGO employees, including 19 Americans, on trial over allegations of illegal foreign funding to their civil society organizations.
The investigation has shaken the Egypt-US alliance, which has been an anchor of the latter's Middle East policy for over 30 years. Since Egypt signed the peace treaty with Israel in 1979, the US has provided $1.3 billion annual in military aid to Egypt, the second-largest aid package it sends to a foreign country.
Egypt's Ambassador to Washington Sameh Shoukry told Al-Masry Al-Youm that both countries have a common interest in continuing aid and that the Egyptian government is communicating with the US State Department and the National Security Council over the issue.
"The US administration expressed concern over the case and its citizens in Egypt. However, we are keen on clarifying the legal prospects and the protection granted by law to the suspects, as well as the their right to a fair trial," he said.
"Every party has its own vision to resolve the case. We definitely won't reach consensus in our visions," he added, saying that Egypt's vision puts faith in the integrity of the judiciary.