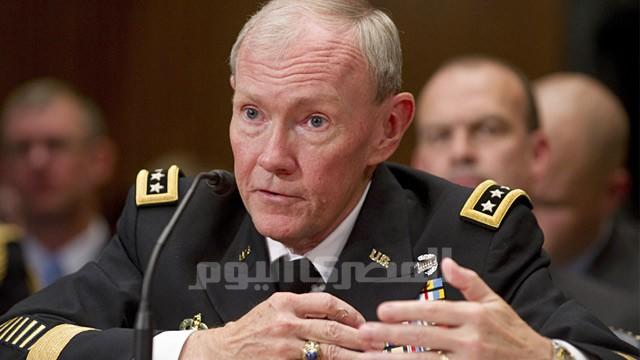 KABUL — Insurgents fired two rockets at the main NATO airbase in Afghanistan, damaging an aircraft used by US Joint Chiefs of Staff Chairman Martin Dempsey, a NATO spokesperson said on Tuesday. The general was not on board at the time.

Dempsey arrived in the country on Monday in a C-17 transport aircraft which was parked at Bagram Airbase, north of Kabul, when two rockets landed near the apron late on Monday night, slightly wounding two ground staff.

"He was nowhere near the aircraft. We think it was a lucky shot," NATO senior spokesperson Colonel Thomas Collins said.

The aircraft was only being used temporarily by Dempsey and his staff. Shrapnel from the rockets also damaged a nearby helicopter.

Dempsey, who had been in the country for talks with NATO and Afghan commanders on a string of recent rogue shootings, was sleeping in his quarters when the rounds struck and left the country afterward on another aircraft.

"No one was seriously injured in the attack," a Pentagon spokesperson said.

Bagram, which is home to around 30,000 military and civilian personnel, is occasionally targeted with rockets and mortar shells fired by insurgents from surrounding hills and fields. In 2007, the heavily guarded base was targeted during a visit by former US Vice President Dick Cheney.

Sporadic attacks also occur at NATO's other main airbase in Afghanistan, Kandahar Airfield, in the volatile south, although they rarely cause deaths or major damage.

A Taliban spokesman claimed responsibility for the attack in a text message and denied it was indirect fire, saying it was based on "accurate information." But the insurgents are often quick to claim any incidents as successes.

Before leaving Afghanistan, Dempsey met his Afghan counterpart, General Sher Mohammad Karimi, who raised the issue of insider attacks by rogue forces that have killed 10 American troops in the past two weeks.

"In the past, it's been us pushing on them to make sure they do more," he said on Monday. "This time, without prompting, when I met General Karimi, he started with a conversation about insider attacks — and, importantly, insider attacks not just against us, but insider attacks against the Afghans, too."

Officials in Kandahar on Tuesday sacked the police chief in Spin Boldak district over the weekend shooting of another NATO soldier by an Afghan police officer.

"These actions will not be tolerated. We stand by our partners," the Kandahar governor's office said in a Twitter message announcing the sacking.

Afghan authorities have promised to improve vetting of police and soldiers to curb insider attacks, while also increasing the number of intelligence officers within Afghan units to identify infiltrators and disgruntled personnel.

There have been 32 insider attacks so far this year involving 36 shooters that have led to 40 coalition deaths, just over half of them Americans. Some 69 coalition troops have been wounded. That's a sharp increase from 2011, when 35 coalition troops were killed, 24 of whom were US troops, during the year.