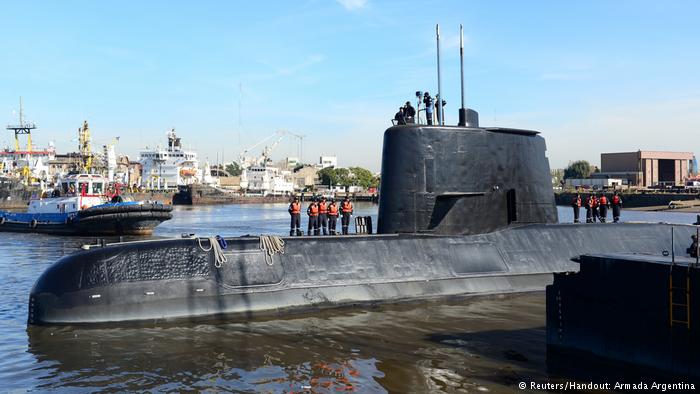 Fears are rising that the 44 crew members on the missing Argentine submarine may be running low on oxygen after six days without contact. There are still no new clues as to its location, the navy said.
If the submarine had sunk or had been unable to rise to the surface since it sent its last signal on November 18, its oxygen supply would now be dwindling , said naval commander Gabriel Galeazzi.
The submarine had enough food and fuel to survive 90 days on the sea's surface, Galeazzi told a news conference on Tuesday. But it only had enough oxygen to last for seven days if submerged.
"Oxygen is a permanent worry. Every day that passes is more critical," he told reporters at the Mar del Plata naval base.
The German-built ARA San Juan was en route from Ushuaia to its home base in Mar del Plata and was about 300 miles (480 kilometers) off the coast when it gave its last location and reported a battery failure.
Over a dozen boats and planes from Argentina, the US, UK, Chile and Brazil have joined the search, with the US Navy sending its Undersea Rescue Command.
Weather relents
Storms hindered the maritime hunt over the weekend, but the weather improved on Tuesday.
"The search by patrol ships has become more effective thanks more than anything to less pounding by the waves, which have fallen to three or four meters," navy spokesman Enrique Balbi told reporters in Buenos Aires.
"We have to make the most of today and tomorrow, because on Thursday the weather is expected to get more complicated," he said.
False hope
Authorities said they were investigating white flares seen in the South Atlantic overnight, after earlier hopes of possible signals from the sub were dashed.
Navy searchers noticed the flares from a distance and found an empty floating raft. However, the ARA San Juan carries red and green flares, Balbi said, not white.
The ARA San Juan launched in 1983 and is the newest of three submarines in the navy's fleet. Among the crew on board the vessel is Argentina's first female submarine officer.