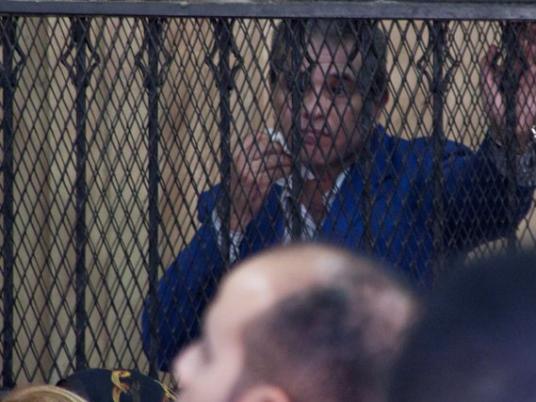 Thursday's papers all provide coverage of the most recent wave of protests across the country.
"Protests and roads cut off in Cairo and governorates," reads a headline on independent daily Youm7's front page above a photo of security forces on Salah Salem Road. The paper writes that police forcefully dispersed dozens of microbus drivers who blocked the road and threw stones at police who were trying to ease traffic congestion. The drivers are on strike against what they say are fines arbitrarily imposed by police looking to pad their pockets. According to the report, four protesters were arrested for provoking riots and paralyzing traffic.
However, privately owned paper Al-Watan reports that 18 were detained and describes the police crackdown as a return to the old ways.
Newly-established daily Al-Sabah reports on the ongoing doctors strike, writing that the parents of some patients stormed Al-Ahrar Hospital in the city of Zagazig, Sharqiya Governorate demanding that the doctors see to the neglected patients.
Trial coverage also drives headlines, although there's not much to write about amid the seemingly unending series of adjournments.
Independent daily Al-Tahrir reports that Giza Criminal Court again postponed the trial of Tawfiq Okasha, controversial TV anchor of Al-Faraeen satellite channel, this time pushing it back to 7 November. The court initially ordered Okasha's release in September, but suspended his satellite channel for a month on charges of defaming the president and inciting assassination attempts against him. Okasha said on-air that Mohamed Morsy is not the legitimate president of Egypt and that his life would be at risk if he attended the funerals of 16 border guards killed in an August attack in Sinai. Before Wednesday's session began, hundreds of Okasha's supporters reportedly gathered in front of the Giza Criminal Court chanting anti-Muslim Brotherhood slogans.
Youm7 reports that the trial of gang leader Sabry Nakhnoukh Helmy and his collaborator Mohamed Abdel Samad on charges of forgery and the possession of drugs and unlicensed weapons was also adjourned to November. Nakhnoukh's lawyer requested a detailed investigation be carried out at the defendant's villa in King Marriott and that Alexandria chief detective Nasser al-Abd, who arrested the defendants in August, appear before the court to testify.
Reporting on the same case, Al-Tahrir adds more substantial details, alleging that a Ministry of Interior immigration department report proves that Nakhnoukh was abroad in November during the Mohamed Mahmoud Street clashes in which he is accused of participating.
"Surprise … Morsy and Shater have the right to run for Freedom and Justice presidency," reads an eyebrow-raising headline on Youm7's front page. The paper quotes an anonymous source saying that though Morsy and Khairat al-Shater, the Brotherhood deputy chief, had resigned from the Freedom and Justice Party leadership, both are eligible to run in its internal presidential elections as they retain their membership in the party's general conference. The report, based entirely on the source's reported statements, expresses alarm that the country could again have a president affiliated with a political party — apparently someone believed Morsy had actually severed ties with the influential group.
Youm7 allocates a two-page spread to an interview with Hamdeen Sabbahi, former presidential candidate and founder of the Popular Current Party, issuing emboldened statements evaluating the president's performance during his first 100 days in office. Sabbahi heavily criticized what he says is the Brotherhood's monopolization of authority and Morsy's refusal to cooperate with other political powers for the public benefit. Though Sabbahi says he considers Morsy a kind person who shares his same humble roots, he believes that the president has failed to realize expectations and draw up a plan that makes people feel secure about the future.
"There is a great possibility that the president won't continue his term … after adopting the new constitution, new elections for Parliament and the presidency are supposed to be held," Sabbahi reportedly predicts.
Al-Ahram: Daily, state-run, largest distribution in Egypt
Al-Akhbar: Daily, state-run, second to Al-Ahram in institutional size
Al-Gomhurriya: Daily, state-run
Rose al-Youssef: Daily, state-run
Al-Dostour: Daily, privately owned
Al-Shorouk: Daily, privately owned
Al-Watan: Daily, privately owned
Al-Wafd: Daily, published by the liberal Wafd Party
Youm7: Daily, privately owned
Al-Tahrir: Daily, privately owned
Freedom and Justice: Daily, published by the Muslim Brotherhood's Freedom and Justice Party
Sawt al-Umma: Weekly, privately owned
Al-Arabi: Weekly, published by the Nasserist Party
Al-Nour: Official paper of the Salafi Nour Party