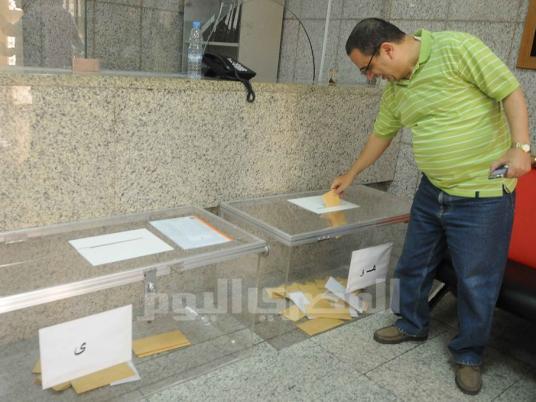 Freedom and Justice, the newspaper mouthpiece of the party of the same name, writes Thursday morning that Egypt's 166 embassies and consulates around the world have ended the seven-day voting process for the first post-Mubarak presidential election.
Vote counting will begin immediately under the supervision of representatives from the embassies and a representative from each presidential candidate. Contradicting a previous Al-Shorouk report that counting would end on 22 May, the Freedom and Justice paper reported the date would be 24 May, after which the results will be sent to the Foreign Ministry and then to the Presidential Elections Commission.
The FJP paper writes that, according to the Foreign Ministry, the most votes from Egyptians abroad came from Kuwait City with 24,011, followed by 16,669 in Riyadh and 10,500 in Abu Dhabi.
Although polls have suggested otherwise, Freedom and Justice quotes Brotherhood presidential candidate Mohamed Morsy as saying he expects to get 60 percent of the votes in the first round of the presidential contest, eliminating the need for a run-off vote. The paper quotes US publication Foreign Policy magazine as writing that Morsy has a high chance of winning in light of the Brotherhood's performance in the recent parliamentary polls. Freedom and Justice refers to the parliamentary election results as a new start for both political and cultural life in Egypt, as well as a logical progression of the Islamic opposition that surfaced in Egypt following the 1967 Arab-Israeli War.
State owned Al-Ahram quotes ruling military council head Hussein Tantawi as saying: "Egypt will witness a historic presidential election." The field marshal added that the election would be impartial and reflect the free will of the people. "We want a great leader for a great country," he was quoted as saying.
The government paper also writes about what it calls "the longest human chain in the world" being planned by Morsy supporters to reportedly stretch from Cairo to Aswan.
Meanwhile, Salafi sheikhs have denied recent Brotherhood statements that they will support Morsy. Nour Party leader Youssef Ahmed is reported as saying the Brotherhood statements are "confusing and untrue." Ahmed added that his party continues to support exiled Brotherhood leader Abdel Moneim Abouel Fotouh.
Independent Al-Dostour issues its first report in a series unveiling the dark history of Jama'a al-Islamiya and violence it partook in from 1977 to 2000 with the goal of turning Egypt toward more conservative Islam. The newspaper mentions the assassination of President Anwar Sadat; massacres in Upper Egypt, specifically the 1997 Luxor massacre; and the bombings of tourist targets.
Al-Dostour says these events began in 1971, when Sadat allowed Islamic groups to participate in politics as a means of combating Nasserism and the left.
Egypt's papers:
Al-Ahram: Daily, state-run, largest distribution in Egypt
Al-Akhbar: Daily, state-run, second to Al-Ahram in institutional size
Al-Gomhurriya: Daily, state-run
Rose al-Youssef: Daily, state-run
Al-Dostour: Daily, privately owned
Al-Shorouk: Daily, privately owned
Al-Watan: Daily, privately owned
Al-Wafd: Daily, published by the liberal Wafd Party
Youm7: Daily, privately owned
Al-Tahrir: Daily, privately owned
Freedom and Justice: Daily, published by the Muslim Brotherhood's Freedom and Justice Party
Sawt al-Umma: Weekly, privately owned
Al-Arabi: Weekly, published by the Nasserist Party
Al-Nour: Official paper of the Salafi Nour Party