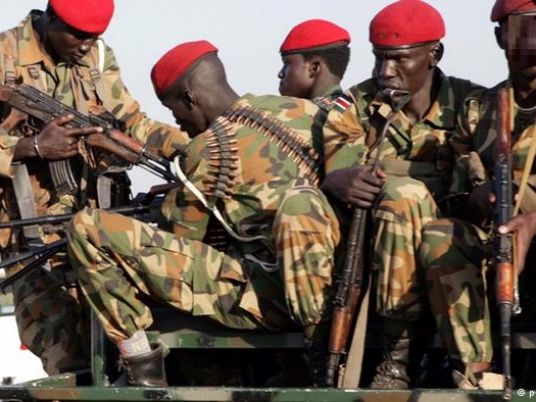 A senior South Sudanese military official says three soldiers suspected of mass rape have been arrested. Both rebels and government troops have been accused of committing war crimes.
The alleged incident took place in Kubi village about 50 kilometers (31 miles) from Juba, the capital of South Sudan. At a press conference held at army headquarters on Friday, military spokesman Brigadier General Lul Ruai Koang said that the arrests were made after community leaders reported at least 11 women had been raped, including a 13-year-old girl.
Salva Kiir: soldiers who commit acts of rape and sexual assalt to be brought before justice
The accusations surfaced about a month after South Sudanese President Salva Kiir said that soldiers who commit acts of rape and sexual assault against civilians would be executed. He later backtracked and said they should be brought before justice.
While commending the soldiers who made the arrests, Koang said "We are happy to announce the arrest of three SPLA (Sudan People's Liberation Army) soldiers suspected of involvement in the commitment of crimes against civilians at Kubi village last month."
The three soldiers, named Kanyang Wol Yai, Deng Geng Geng and Mabior Chol Anei were among troops deployed to the area after unidentified gunmen killed an army general. After failing to apprehend the killers, the soldiers are accused of going on a rampage, raping women and young girls, and torturing civilians in the area.
In South Sudan's conflict, women and children continue to suffer most
In their defense, two of the soldiers claimed they were drunk at the time of the incident, while another said he was misled by the devil. The three suspects were identified by some of the victims of the assault. "The suspects will be subjected to legal processes according to SPLA Act 2009 rules and if found guilty, they will be held accountable for their actions," Koang said.
Although the army last October arrested and convicted at least eighty soldiers suspected of committing various crimes ranging from looting to murder during an outbreak of fighting in Juba last July, no soldier was arrested for committing rape. If the three suspects now arrested are found guilty, this will be the first time that the South Sudan military convicts some of its own officers on rape charges.
The number of women and girls believed to have been raped in South Sudan since a split between President Salva Kiir and his former deputy Riek Machar escalated into a military conflict in December 2013 is put at several thousand.