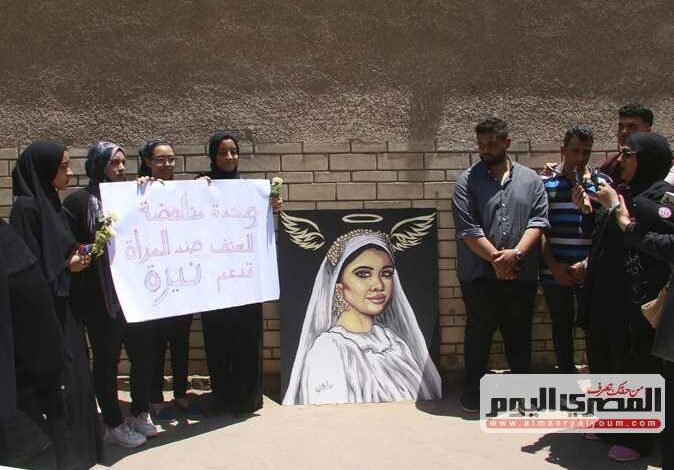 The Mansoura Prosecution Office in Daqahliya Governorate ordered the detention of three nursing staff at the Mansoura General Hospital for four days pending investigations, on charges of filming Naira Ashraf's dead body and leaking the video.
The suspects were arrested after interrogation of all those who were working in the emergency department at the Mansoura General Hospital on the day of the murder, Monday, June 20.
Two days earlier, Mansoura police also in Daqahliya arrested one nurse involved in filming a video clip inside the old Mansoura General Hospital's reception of the corpse of the murdered student Naira Ashraf, who was killed by her fellow student in front of the university, on June 20, outside Mansoura University.
The police monitored the  video that circulated on Facebook, that was leaked from inside Mansoura Hospital, of the corpse of Ashraf and that led tune to the nurses. 
The video showed traces of stab and slaughter wounds to the neck and side. 
The Ministry of Health  opened an urgent investigation after the video clip of the victim was leaked, Sherif Makin, Undersecretary of the Ministry of Health in Daqahliya, announced.
The Mansoura Criminal Court on June 28 sentenced the murderer of Naira Ashraf  to death by hanging.
The court referred the death sentence of the defendant to Egypt's Grand Mufti Shawky Allam for approval.
The court set the session for July 6 to read the final verdict, during which it sentenced him to death after Allam recommended the death sentence against the murderer.
Adel admitted to all of the charges of committing the crime during interrogations.
The Public Prosecutor referred Adel to trial before to the Criminal Court over charges of premeditated murder of Ashraf.
The Public Prosecution had established evidence before the accused from the testimony of 25 witnesses, including students, university security personnel, and shop workers in the vicinity of the incident.
The Public Prosecution also established evidence against the accused after  examining her mobile phone, which contained several messages she received from the accused, including threats of murder.
Prosecutors used surveillance cameras seized at the crime scene to establish evidence against the accused.