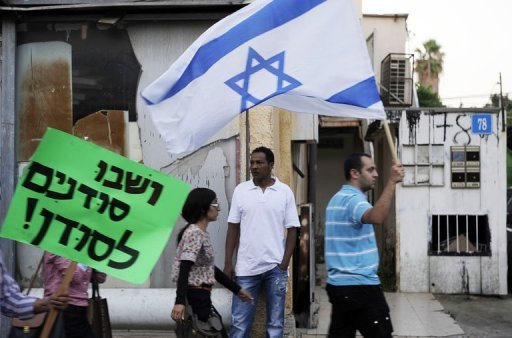 An attacker stabbed three Eritrean men in a southern Tel Aviv video store on Tuesday in what police said they were initially treating as a racist attack.
"All three people that were stabbed were taken to hospital with light to moderate injuries," police spokesperson Micky Rosenfeld told AFP.
"A suspect who was in the video shop at the time fled the scene. Police are searching for him."
He did not give a physical description of the suspect, adding that police were currently examining CCTV footage and interviewing witnesses.
An eyewitness told an AFP photographer that the assailant was of Israeli appearance.
Rosenfeld said that while not ruling out other motives the main police avenue of investigation was that it was a hate crime.
"That's the main direction, as all three of them were stabbed," he said. "If it had been just one of them stabbed it could have been an argument between them."
Rising tensions over the growing number of illegal immigrants has turned violent in recent months with arson attacks on Africans in Tel Aviv and Jerusalem.
In May an anti-immigrant protest in south Tel Aviv turned ugly, with demonstrators smashing African-run shops and property, chanting "Blacks out!"
Israeli figures indicate there are some 60,000 Africans in the country illegally, mostly from Sudan and Eritrea. Most of them live in run-down neighborhoods of south Tel Aviv.
On 10 June, the immigration police began a mass roundup operation, which initially focused on South Sudanese nationals but which has been expanded to include those from the Ivory Coast.
Since then, hundreds of Africans have been detained and around 900 flown back to Juba, capital of South Sudan.