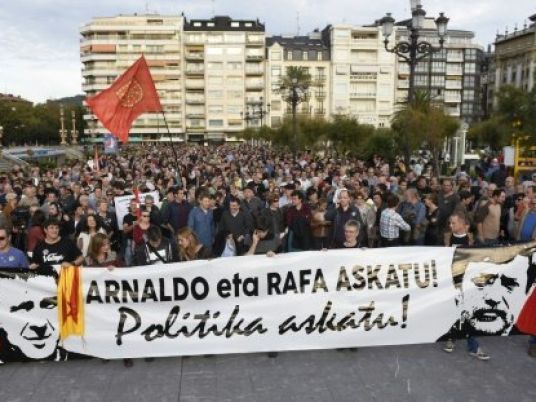 Thousands took to the streets of San Sebastian in northern Spain on Saturday to call for the release of Arnaldo Otegi, the jailed head of the Basque independence Sortu party.
Otegi, 57, is a former member of the armed separatist group ETA, which is blamed for more than 800 killings in a four-decade campaign to create a Basque homeland in northern Spain and southwestern France.
More than 10,000 demonstrators marched behind a large Basque-language banner that read, "Free Arnaldo and Rafa", referring to Rafa Diez, the head of the Basque pro-independence trade union LAB, according to an AFP photographer at the scene.
They shouted pro-independence chants and held up Basque flags and that of the Navarre region of northern Spain, peacefully demonstrating for around an hour along a main street in the city.
Marching alongside senior members of the "izquierda abertzale" — the term used for Basque parties that are nationalist and left-wing — were leaders of the radical-left party Podemos, and the separatist Catalan ERC party.
Otegi was jailed for six years in 2009 for attempting to reform Batasuna, the separatist party banned in 2003, which is considered the political arm of ETA.
He is due to be released in April 2016, and was named the head of Sortu, which was briefly banned for its links to Batasuna, while in jail.
From the late 1990s, he has come out against violence, and apologised to victims of ETA in a book in 2012. ETA announced in 2011 that it had abandoned its armed struggle.
Some 600 of its members are in jail in Spain and about 100 more are imprisoned in France.