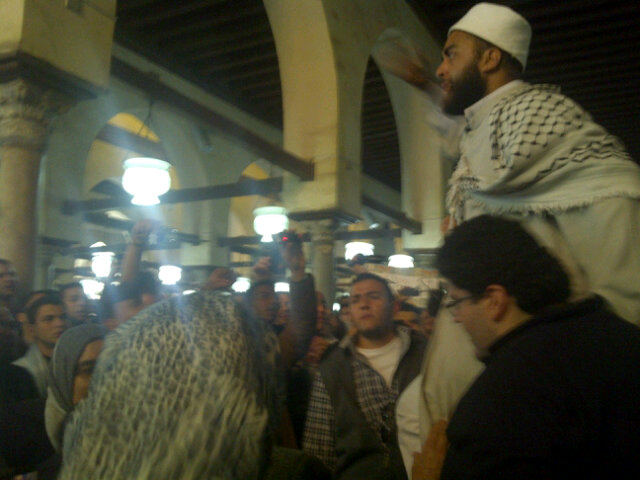 Thousands gathered to perform funerary prayers for Sheikh Emad Eddin Effat, secretary general of Dar al-Iftaa, at Al-Azhar Mosque on Saturday afternoon.
Effat was killed on Friday by a bullet to the chest during clashes between protesters and security outside the cabinet building in central Cairo.
Effat was considered one of Al-Azhar's moderate and progressive shiekhs, and was a high ranking shiekh in Egypt's Dar al-Iftaa, the body that issues Islamic fatwas (edicts). He took part in the protests against former President Hosni Mubarak.
Eyewitnesses said the body was taken from the Zeinhom morgue to Al-Azhar Mosque for the prayer.
Effat's family issued a statement on Saturday saying they will seek to achieve his dream of freeing Egypt and vowing to bring those who killed him to justice. They said Effat asked God to grant him martyrdom when he performed the pilgrimage to Mecca this year.
Referring to Field Marshal Hussein Tantawi, head of the ruling military council, people at Al-Azhar Mosque chanted, "You villainous Field Marshal, the lives of Al-Azhar scholars are not cheap."
Chants after the funeral prayers included: "Either we get back their rights, or die like them. People want to prosecute Tantawi!"
Some protestors said after the prayers that they were heading to Tahrir Square to protest against the army's crackdown.
The clashes have continued since early Friday morning, when security attacked a sit-in outside the cabinet building on Qasr al-Aini Street, and at least eight people have died and over 300 have been injured so far. The violence spread on Saturday as troops charged into Tahrir Square to break up a protest there.