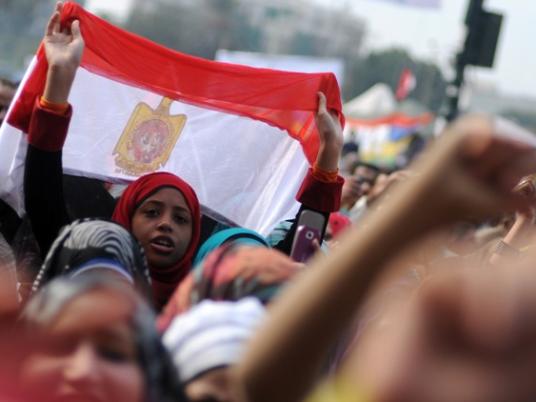 Thousands of demonstrators gathered in Tahrir Square Sunday to participate in the 'Revolutionary Legitimacy' million-strong demonstration.
Students of Cairo and Ain Shams universities, as well as students, joined the demonstration.
The demonstrators shouted "Down with the Military Council" and "The Military are Thieves." They called for the formation of a national salvation government led by presidential candidates Mohamed ElBaradei or Abdel Moneim Abouel Fotouh, and rejected the recent appointment of Kamal al-Ganzoury as prime minister.
The protesters, who demanded the erection of a memorial for the martyrs of the 25 January revolution in Tahrir Square, were joined by a march of women chanting slogans against the Muslim Brotherhood.
The Salafis withdrew from the square because, they say, certain demands have been met, namely the creation of a timetable for handing over power to an elected president, as well as the dismissal of Prime Minister Essam Sharaf's interim government, which means that the constitutional principles document proposed by former prime minister has been dropped.
In a statement on Sunday, the Salafis said they decided to withdraw so as not to impede parliamentary elections slated for Monday, and give a chance to the "Islamic Voice" to be heard.
The statement stressed Salafis' solidarity with the "great people of Egypt in the face of oppression," and affirmed that Tahrir Square will remain vigilant and "complete the path of revolution with God's help."