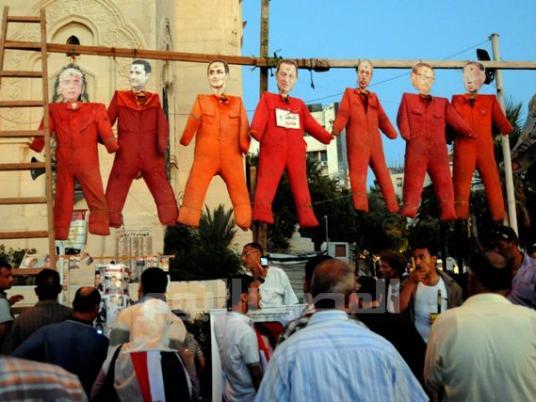 Thousands of people in various Egyptian governorates staged demonstrations on Tuesday demanding the retrial of deposed President Hosni Mubarak and the other defendants in the case of protester murders during the 2011 revolution, and the application of the Political Isolation Law on presidential candidate Ahmed Shafiq, Mubarak's last prime minister.
In Alexandria, 8,000 demonstrators gathered in Al-Qaed Ibrahim Square in solidarity with the protesters in Tahrir Square, who called their protest a "million-man demonstration of justice."
Laila Marzouk, the mother of Khaled Saeed, whose brutal death at the hands of police officers is considered on of the motivations for the revolution, took part in the Alexandria demonstration and called for preventing the remnants of the former regime from ascending again to power.
In Damietta, hundreds of revolutionary forces and Salafis staged demonstrations that the Brotherhood joined in small numbers, as its members are already demonstrating in Tahrir Square. Protesters said that the military council should leave and a civil presidential council should be formed in its place.
In Hurghada, Red Sea Governorate, the Coalition of Revolutionary Youth, the April 6 Youth Movement, the Muslim Brotherhood, Jama'a al-Islamiya and Salafis staged demonstrations in Dahhar Square for the same purpose.
In Zagazig, Sharqiya governorate, thousands of protesters congregated in Qawmeya Square and tore apart a billboard of Shafiq. The residents threw flowers at them from the balconies and praised them.
Similar demonstrations were staged in Minya, Suez and Ismailia.
Edited translation from Al-Masry Al-Youm