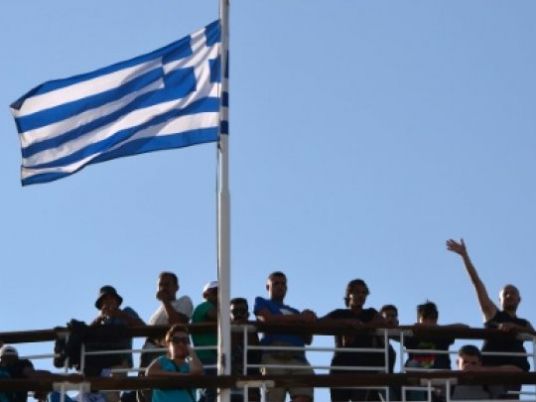 Thousands of refugees and migrants arrived in Athens on Wednesday, piling further pressure on increasingly divided European nations as they struggle to cope with the unprecedented influx.
Tensions were running high in Hungary, a key transit point for the huge numbers of people trekking up from Greece through the western Balkans to seek a new life in northern Europe.
Ministers in Athens were holding talks on the migrant crisis ahead of a wider meeting with top EU officials Thursday.
Two government-chartered ships carrying some 4,300 people, most of them refugees from war-torn Syria, docked at Athens' Piraeus port after sailing from Lesbos, one of several Greek islands inundated by thousands of people crossing from Turkey in flimsy boats.
European countries are battling with the continent's biggest migration crisis since World War II as people flee war and repression in the Middle East, Africa and South Asia.
Police in Hungary — a country that saw 50,000 migrants enter in August alone — blocked some 2,000 people from boarding trains from Budapest to Austria and Germany on Wednesday, triggering a demonstration by about 100-150 people.
Another group staged a sit-in at a surburban station, refusing to board a train to a Hungarian refugee camp and demanding they be allowed to travel on to Germany, which as the EU's top economy is destination of choice for many.
"Normal people, abnormal people, educated, uneducated, doctors, engineers, any people, we're staying here. Until we go by train to Germany," said Mohammad, a Syrian protesting at the station.
He said he would protest "for the next month, for the next year" if necessary.
"It's not our dream to stay here and to sleep in the streets."
Hungary this week allowed thousands to board trains to Austria and Germany but in a U-turn on Tuesday police suddenly blocked access to the main station in Budapest for anyone without an EU visa. The government said it was simply applying EU rules.
Right-wing Prime Minister Viktor Orban's government has built a razor-wire barrier along Hungary's 175-kilometre (110-mile) border with Serbia, but it is proving ineffective at keeping the thousands of migrants out.
– Syrians drown trying to reach Greece –
More than 350,000 people have made the perilous journey across the Mediterranean this year, according to the International Organization for Migration.
The Turkish coastguard said at least nine Syrians drowned on Wednesday when their boats sank on their way to the Greek island of Kos. Eight others were missing.
The Greek government — which has just accepted a third international bailout as it struggles to pay enormous debts — has seen more than 160,000 people landing on its shores this year.
The first of two government-chartered ships ferried 1,800 people to Athens late Tuesday, with another 2,500 landing at dawn. Port police said they had been taken to a nearby train station.
Athens has repeatedly said it is unable to cope with the scale of the influx, calling for a coordinated European response and for more resources to help it accommodate the refugees.
Greek ministers met Wednesday to discuss the emergency, which will likely also be at the centre of talks in Athens on Thursday between Greek officials, the European Commission's vice-president Frans Timmermans, and Dimitris Avramopoulos, the EU's Migration and Home Affairs Commissioner.
– Eurostar trains disrupted –
The numbers crossing from Turkey to Greece have soared over the summer as the migrants, many paying over $1,000 to smugglers for the risky passage, take advantage of the calm seas to make the crossing.
The crisis has stoked friction in the 28-member European Union over how to share the burden fairly, with French Interior Minister Bernard Cazeneuve saying Tuesday that "time is running out" to find a solution.
In France, Eurostar trains ground to a halt in the early hours of Wednesday as several people — believed to be migrants — climbed onto the tracks near the port of Calais, leaving hundreds of passengers stranded in the dark and in stifling heat.
Some 3,000 migrants are living in makeshift camps near the port and have ramped up their attempts to cross through the Channel Tunnel to England in recent months.
France and Britain have brought in emergency measures to deal with the surge after several people died in desperate attempts to reach England.
London has announced an extra £7 million ($10.7 million, 9.8 million euros) to help France secure the Eurotunnel site on its side of the Channel, in addition to 4.7 million euros already spent on erecting barriers aimed at securing access to the terminal and the platforms.
by Katy Lee