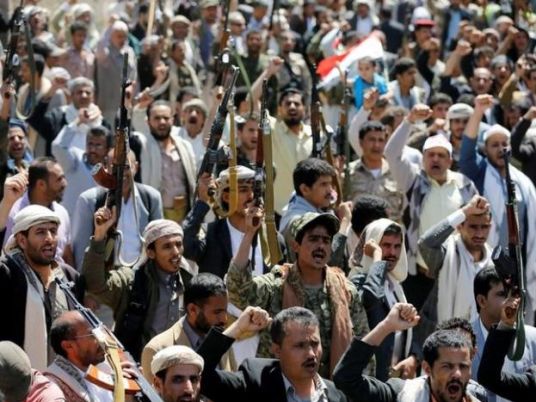 Thousands of Yemenis, many of them armed, gathered at the United Nations headquarters in Yemen's capital Sanaa on Sunday calling for an international investigation into an air strike on a wake this weekend that was widely blamed on Saudi-led forces.
The attack — that killed at least 140 people on Saturday — hit a hall where rows of the city's notables had gathered for the wake of the interior minister's father.
The Saudi-led coalition has denied any role in the incident, believed to be one of the deadliest strikes in the 18-month-old war in which at least 10,000 people have been killed.
The attack has been condemned by the U.N., the European Union and the United States.
Pictures showed the inside of the once-ornate hall reduced to a pile of twisted metal and rubble after two huge explosions.
Radios and mosque loudspeakers throughout the city blared mourning verses as demonstrators crowded the streets around the U.N. headquarters, many waving their rifles in the air.
Nada, a high school student living near the site said body parts propelled by the explosion flew into her house.
"What happened was an unprecedented crime … The sight of it was terrifying and will never leave my mind," she said.
One Sanaa resident, Ahmed Abu Taleb, described his frantic search for a relative.
"We were searching in the hall and in hospitals from the afternoon until dawn today, but after all our anguish we learned that he was among the dead."
On Sunday, Yemen's powerful former president Ali Abdullah Saleh called for more attacks at the Saudi border. Saleh holds sway in the military fighting with Houthi rebels who pushed Yemen's internationally recognized government into exile in March 2015.
Saudi Arabia has launched thousands of air strikes against the Shi'ite Houthis, who the kingdom and its Gulf Arab allies fear are a proxy for their archenemy Iran.
In another sign that the attack may escalate already raging regional tensions, Iran's main ally in the Arab world commiserated with the Houthis and condemned Saudi Arabia.
"I say to (Yemen's) people: you will ultimately triumph," the leader of the armed Lebanese group, Hezbollah, Hassan Nasrallah, said on Saturday.
"Your noble revolutionary blood will triumph over the sword of those bloodthirsty savages."