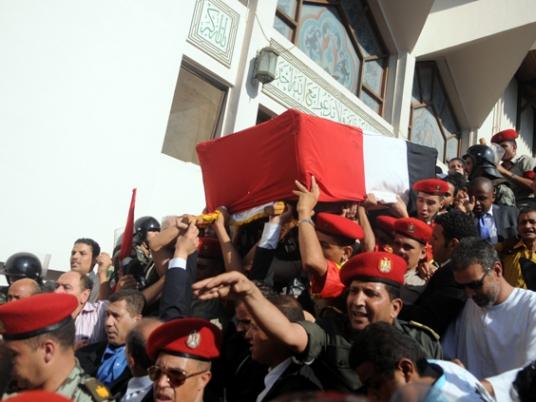 Thousands attended the funeral of Omar Suleiman on Saturday afternoon amid a strong presence of Central Security Forces, presidential guards and military police.
Some attendees of the military funeral at Aal Rashdan Mosque in Nasr City raised their shoes and chanted against President Mohamed Morsy, a Muslim Brotherhood member, accusing him of killing Suleiman.
Suleiman was a longtime intelligence chief and the last vice president under former President Hosni Mubarak
Morsy did not attend the funeral, but sent Presidential Grand Chamberlain Major General Abdel Moemen Fouda in his place.
Head of the Supreme Council of the Armed Forces Field Marshal Hussein Tantawi, his deputy Sami Anan, and Interior Minister Mohamed Ibrahim attended.
The protesters chanted: "Oh armed forces come from Sinai, the Muslim Brotherhood are slaughtering us," and chanted in support of Tantawi and the armed forces.
A number of public figures also attended the funeral, including former MPs Mostafa Bakry and Mohamed Abu Hamed, Grand Mufti Ali Gomaa, former Minister of Local Development Major General Mohsen al-Noamany, former editor of state-run paper Al-Ahram Osama Saraya, and Major General Hassan al-Rowainy.
Suleiman's body arrived at Cairo International Airport on Saturday from the Ohio in the US, where he died in hospital on Thursday, aged 76, while undergoing medical checks.
Suleiman, who was considered Mubarak's most trusted man, dued due to complications from amyloidosis, a disease that affects multiple organs including the heart and kidneys, the Cleveland Clinic in Ohio said in a statement on Thursday night.