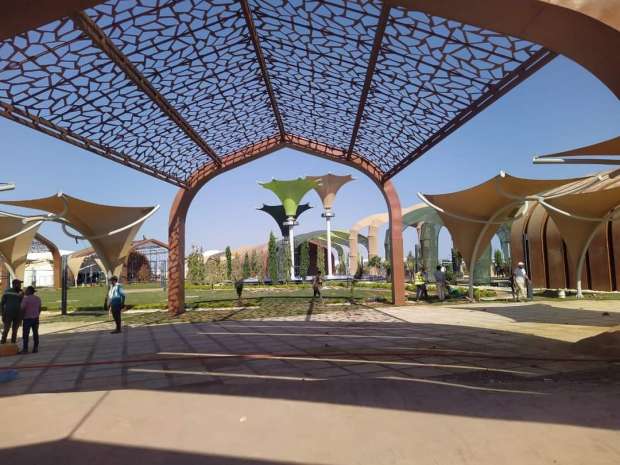 The Egyptian Environment Ministry has completed readying the Green Zone in the Red Sea resort city of Sharm el-Sheikh, to host the events of the COP27 Climate Summit.
Environment Minister Yasmine Fouad visited South Sinai, on Saturday and inspected the Green Zone and Ras Mohammed Protectorate.
The Climate Conference activities start on November 6 and continue until November 18, and will be held in the conference hall.
The Blue Zone belongs to the United Nations Secretariat, and the Green Zone belongs to the Environment Ministry.
The Governor of South Sinai, Khaled Fouda, praised preparations being done in the Green Zone, and said that the work of the Blue Zone has already finished and has been provided with mobile power units.
Thirteen things to know about the Green Zone:
Established on over 11,000 square meters.
Located next to al-Salam Environmental Park in front of the Conference Hall.
Hosts entities and organizations applying for the initiative to implement green projects.
Includes five air-conditioned halls to accommodate up to 300 bodies, organizations, associations and companies.
Fully air-conditioned and equipped with services.
Includes a fountain of more than five meters in height in the shape of a lotus flower.
Includes green spaces and environmentally friendly buildings.
Equipped with bathrooms for people with special needs.
Features a small Bedouin village that serves as a guest house.
Five corridors with a display of photos for environmentally friendly projects.
Equipped with a parking lot.
Equipped with utilities such as water, sewage and electricity.
Provides high-speed Internet services to all guests.
The first environmental city in the Middle East
South Sinai Governor Khaled Fouda, announced that Sharm el-Sheikh has now become the first environmentally friendly city in the Middle East, after concluding projects to develop the city before the launch of the 27th Climate Summit (COP27).
"It's only seven days to the launch of the summit, and the world will witness an Egyptian achievement and miracle that happened within five months, as 31 projects have been implemented to transform Sharm el-Sheikh into the first green tourist city in Egypt and the Middle East," Fouda said in statements to the privately-owned al-Watan newspaper.
Fouda explained that the Green Zone project in Sharm el-Sheikh was finally completed, under the supervision of the Sinai Reconstruction Authority.