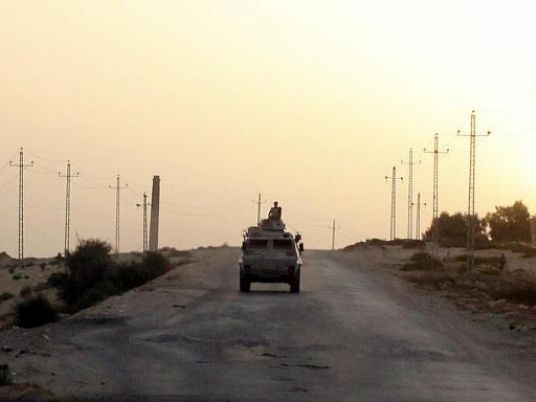 The residents of North Sinai's Arish not only have to put up with the struggle of the "war against terrorism," but they also have to deal with the unavailability of clean drinking water, which has been gone for up to a week.
The situation is especially drastic for those who have been displaced, and have had to migrate to Arish from cities in Sinai like Shiekh Zuwaid and Rafah, which have been witnessing fierce battles between the Egyptian security forces and militants.
North Sinai is at the epicenter of militant insurgency as most attacks take place there, targeting security forces.
Militancy inside Egypt has seen a significant rise since the military ouster of President Mohamed Morsi in July 2013, following mass protests against his rule.
According to separate statements by the armed forces, Egyptian security forces have killed hundreds of militants in Sinai over the past two years.
Arish's residents fear the scenario of water cuts in Sheikh Zuwaid and Rafah will be repeated in Arish; a scenario which will make everyday life even more difficult to endure. Strict curfews and heavy security presence makes going to wells and gathering enough water to use for agriculture less bearable.
The two cities, Rafah and Sheikh Zuwaid, have been going at least six months without proper access to war, a fact that has taken its toll on the residents.
Residents say that transferring water from agricultural wells all the way to Arish takes place through volunteers and after agreements with the owner of the well. Transporting the water also requires security permits and informing security check-points of the process so that the water is then allowed to pass through, especially given the fact that security forces may suspect that large trucks are carrying explosives.
Arish is the capital of the North Sinai province, with a population of 100 thousand out of the province's total population of 435 thousand people, according to the State information Service.
"To the generous residents of Arish; whoever needs water must get a car, a reservoir and call me, and water is available from the Jofi well for free," an Arish resident, Hassan al-Mateery, wrote on his Facebook page.
In a phone call with Aswat Masriya, Mateery said that there has been a drinking water crisis in the city for at least a week. He made the offer especially to help the displaced, who have moved to Arish from Sheikh Zuwaid and Rafah.
Mateery took it upon himself to warn all those who accept his offer that the well's water is not suitable for drinking and has to be filtered or boiled before it is drinkable.
The struggle of the residents
Adnan Abu Saleh, who preferred to use a pseudonym for security reasons, is one of Northern Sinai's internally displaced people who moved to Arish after being forced out of his home in Sheikh Zuwaid.
He told Aswat Masriya that he cannot find a truck to use for transporting water from the wells to the cities because he is afraid the truck will be perceived as a security threat by police and military officials. Such cars have been used for explosive operations before, he explained.
Residents also said that when they question why clean water has been cut for this entire period, the response is usually that the main pipeline that transfers water from the city of Qantara to Sinai is broken and has been undergoing repair. A security official confirmed this to be the reason to Aswat Masriya.
Mineral water
Ismail Ali, who owns a supermarket in Sheikh Zuwaid said that the security grip on the roads that head to Northern Sinai, including Arish, scares mineral water company representatives away from selling their products in the province.
The availability of bottled water is declining midst these long water cuts, Ismail adds.
However, despite the high demand, Ismail says that bottled water is still at EGP 2 for a small bottle and EGP 4.5 for a large one. Vendors are not taking advantage of the rise in demand so they keep the prices fixed in an attempt to partly alleviate the crisis, he said.
Mosques without water
Meanwhile, Abu Ammar, who works at a mosque in Arish, says that the condition of mosques in Arish does not differ much from the condition of people in Arish. Mosques are in dire need of water for drinking, bathing, and wudu' (Islamic washing ritual practiced before prayer) as well as to keep the mosque itself clean.
The mosque needs a large amount of water that is just unavailable in the midst of this crisis.
Deliberate cuts?
Adel Amer, who runs the Egyptian Centre of Political and Economic studies does not think that the week-long water cut in Arish is deliberate.
However, it would be disastrous if it is deliberate, he says. If it is recurrent then another scenario of internal displacement in Northern Sinai is expected. Regarding Arish, Amer ruled out the possibility of a scenario similar to that of Rafah and Sheikh Zuwaid as they are both considered "terrorist strongholds".