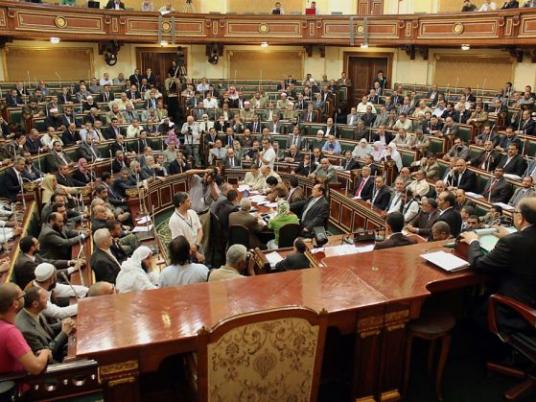 Four months into the new Egyptian parliament, at least 35 percent of Egyptians are satisfied with the legistlative body's performance, according to a poll conducted by the Egyptian Center for Public Opinion Research (Baseera).
On the flipside, 31 percent of Egyptians polled are dissatisfied with parliament's performance and a further 33 percent are undecided.
According to Baseera, the results showed a correlation between educational level and the degree of satisfaction/disatisfaction with parliament.
Forty-three percent of those with a lower education level said they were satisfied with parliament's performance, compared to 20 percent of those in the better-educated bracket.
The poll showed less satisfaction among middle-aged respondents than those in the young and elderly categories. Only 30 percent of people aged from 30 to 49 are satisfied with the parliament's performance, while 36 percent of those aged from 18 to 29 are satisfied.
Moreover, the poll showed that the eldest respondents are the biggest supporters to the parliament, with 42 percent of those aged above 50 are saying they are satisfied.
Meanwhile, 39 percent of respondents showed their satisfaction with the performance of their constituency's representatives in the parliament, while 27 percent are not satisfied with their representatives and 33 percent are undecided.
Satisfaction with the performance of representatives varied notably between rural and urban areas, with 49 percent of rural residents satisfied, compared to 29 percent of urban respondents.
The respondents in urban areas seemed less certain about how to assess the performance of their representatives, with 39 percent of urban residents registering as "not decided", compared to 29 percent in rural areas.
Commenting on the phenomenon, Baseera said, "This may be due to the fact that in rural areas people tend to have personal knowledge of their representatives, which makes them more able to evaluate their performance."
Moreover, the poll shed light on the difference in satisfaction levels in Lower and Upper Egypt. Respondents living in Lower Egypt were more likely to approve their representatives' performance, with a rating of 45 percent, compared to 41 percent in Upper Egypt.
The poll was conducted by telephone, using both mobiless and landlines, involving a sample of 1541 participants aged 18 and above, and covering all governorates. All the interviews were conducted from April 18 to April 20, 2016.
The response rate was around 46 percent, and the error margin in the results is less than 3 percent, according to Baseera. The poll was self-funded by Baseera as a part of its social responsibility activities.